A third (33%) of Brits have NEVER switched energy supplier, and 73% haven't switched in the last 12 months - despite this being the best way to save money on bills. One in five (20%) spend up to £1,000 a year on gas and electric!
Knowing these top tips and tricks could save you money on heating during the coldest months of the year
One in five (21%) Brits say they are more worried about gas and electricity costs than any other household spending, yet many don't appear to be taking advice from energy companies to help reduce bills. 
Research from Boiler Plan revealed that Brits aren't taking advantage of the many deals available to new customers, as a third (33%) have never changed their energy supplier and 73% have not switched in the last 12 months. Failing to consider moving to a new provider can end up costing consumers hundreds of pounds - as data shows that one in five Brits (20%) are spending between £750 and £1,000 per year on gas and electricity alone. 

Boiler Plan, provides five tips on how to save hundreds on energy bills this winter 

1. Use free online tools to make savings 
Energy Saving Trust offer a free home energy check tool which calculates cost savings based on the information you provide. The tool can help you make effective savings and reduce energy costs in your home with no cost involved.  

2.  Use Energy-efficient Products
Though not an instant saving hack, being mindful of the energy-efficiency rating when making new purchases can save money in the long run. Installing a new A+ rated combi boiler could create a saving of up to £490 on annual gas bills.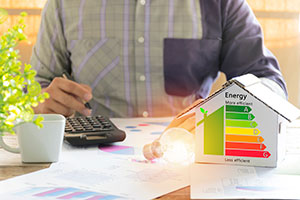 3. Turn down the heating
Turning down the thermostat by just one or two degrees can save up to 10% on annual heating bills and reduce energy costs. Most heating systems can also be programmed to be even lower throughout the night, and a duvet with a Tog rating of between 13.5 and 15 will help with colder nights. Hot water bottles and dressing appropriately for weather conditions can also help those who prefer a higher thermostat setting. Closing curtains and doors will also ensure no heat is lost through draughts.

4. Explore Price Comparison Websites 
Price comparison sites can help homeowners get the best deal when switching gas and electricity providers, and choosing an online tariff is advised as it saves the supplier the cost of sending someone out for meter readings which is reflected in the cheaper bills.

5. Collaborate with other Consumers 
Consumers can also group together to increase their bargaining power against utility providers to negotiate lower tariffs in a reverse auction. Collectively switching can lead to much better savings. You normally register online for this; a reverse action then takes place which is won by the energy company offering the lowest tariff. You can switch on your own and still get good savings, but collectively switching can lead you to even better savings.

Commenting on the findings, Ian Henderson said: "Boiler Plan is committed to keeping the UK warm. It's especially important to keep your home warm in the colder months to reduce the likelihood of developing an illness - and to also ensure home dwellers are comfortable and happy overall.

"We know how costly heating can be, particularly when it comes to last minute boiler fixes and rising monthly costs. We offer a range of low monthly financed payment plans including Buy Now, Pay Later as well as a free up to 10-year manufacturer backed warranty for all our customers. We are always on hand to support customers if their boiler fails and we strive to offer a plan that suits everyone's pockets." 

For further tips on reducing your gas bill visit the Boiler Plan Blog.