The pitter patter of tiny feet can often make you readdress where you live and for one couple Catherine and Alistair Chaytor, a semi-detached home on a busy main road in Headington, Oxford with no off road parking just didn't work with two small children. 
Catherine comments, "Alistair and I had bought our home six years ago before having children and it was perfect for our lifestyle and where we worked. But once we had George (4) and Matilda (2) the busy City location, impractical layout and lack of parking started to prove a problem and we had also simply outgrown the house. 
"We were really keen to move to a village location and needed a larger home so we started to look around. We weren't really considering new build homes as an option because we had previously lived in one and also felt the garden would be too small but when my brother told me about a new development, Deanfield Grove in Tackley, where he and his family live we decided to take a look. 
"We visited the show home and were really impressed with the quality and the size of the development but were still a little unsure on buying a brand new home. We went away and started looking at more second-hand properties but they were all in the wrong location or needed lots of work doing to them and our thoughts kept coming back to the homes at Deanfield Grove. 
"We visited the show home again and realisedthat it provided us with everything we wanted. We were so impressed with quality of the finishes and the little extras that Deanfield Homes include in the price such as bathroom mirrors and integrated appliances. When we moved into our previous new build home it was just a shell and we needed to add everything. DeanfieldHomes really changed our perception on new build homes. 
"We fell in love with the four bedroom detached Elstowwhich is really well designed and laid out internally and perfect for our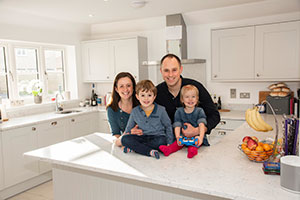 growing family. There are also four double bedrooms which are all a great size and the quality of the doors and built in wardrobes makes it feel so spacious. The garden is also perfect for what we need for the children and it's great for them to be able to have some outdoor space. 
"We put our house on the market and initially sold it really quickly but unfortunately our buyer's chain collapsed which was a rather stressful time. DeanfieldHomes and Savillswere really accommodating and patient with us and allowed us to find another buyer and not lose our home. 
"We are really happy here and have already settled into village life and it's great to have my brother and his family on the doorstep. The development is in the centreof the village which backs onto the school playground and George will be starting there in January at the pre-school. Alistair also walks to the station to get the train to work at the Science Park in Oxford which is so convenient and we are still able to reach Oxford easily if we want to go out at the weekend." 
All the homes are now reserved/sold at Deanfield Grove, Tackley. DeanfieldHomes recently launched Deanfield Grange in the sought after Cotswold village of Shipton-Under-Wychwood. It features a stunning collection of three, four and five bedroom family homes, built using local materials to create attractive street scenes on the edge of the sought after village and already has 30% of the homes reserved or sold. 
Each property is built to a quality specification with a professionally designed kitchen, Bosch appliances, built-in wardrobes to select bedrooms, contemporary bathroom suites and a host of energy saving measures for low running costs. 
For more information about Deanfield Grange please call 01993 685695 or visit the website www.deanfieldhomes.co.uk