So you've decided to buy your first home – this is super news! Whether you're buying on your own, with a friend, partner or as a family, this is a really exciting step and you can be sure of many good times ahead. 

Of course, it's not going to happen overnight and before that front door key drops into your hands, there are the inevitable legal and financial steps to work through. 

At Cavanna Homes, we've produced a handy checklist to guide buyers through the process and to help you on your way to securing your dream home. 
Work out how much you can borrow
The first and one of the most important steps towards getting on the property ladder, is to calculate how much you can borrow and how much of a deposit you will require. Our handy mortgage calculator is a great place to start. 
Check out the Help to Buy scheme
We are an approved 'Help to Buy' builder, meaning we are able to give you the opportunity to apply for a much lower mortgage, which will help you to reduce your monthly payments. So how does it work? If you qualify and have a 5% deposit, Help to Buy enables you to take out a 75% mortgage, with a Shared Equity Loan from the Government of up to 20% of the value of the property, to make up the difference.
Don't forget the fees!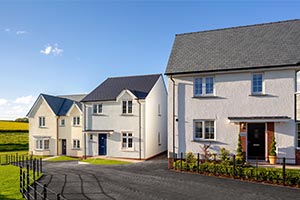 Although there is lots of support to help you get on the property ladder, don't forget to be prepared for the additional costs which crop up along the way. It can be helpful to factor these in at the start, so there are no nasty surprises! These can include arrangement fees on mortgages, legal costs, buildings insurance, moving charges and any furnishings you might need to buy.
Location, Location, Location
When buying a new home, location is everything and it's important to consider your needs and what you might want from the area surrounding your prospective home. What amenities are close by? Shops? Schools? Beaches? Countryside? How long would your commute be? These are all worth thinking about. We have current developments in a range of stunning coastal and countryside locations - if you need a little inspiration, read our location blogs to find out more about the areas in which we are building and why we love them so much.
Finding your dream home
Arguably one of the most fun and exciting parts of the process! Once you know what you can borrow and how much you have to spend, you can begin searching for your dream home using our online search button by location, price or number of bedrooms you need. Our sales offices have now reopened and viewings can be arranged strictly be appointment only. If you'd like to book, please email our friendly team for more details.
Finding the right mortgage 
Once you've chosen and reserved the home you want to buy, it's time to arrange your mortgage! When it comes to this, there are lots of options to explore and it can make a big difference having an expert on hand to help you secure the very best deal for you. Finding a mortgage advisor or Independent Financial Advisor who understands your needs, is crucial to help you navigate through this part of the process.
Find a solicitor
You'll need to find a solicitor who specialises in conveyancing (preparing property transfer documents) who will take care of all the legal aspects of the home-buying process. We can recommend one with pre-agreed special rates when you buy one of our new homes. 
Exchanging contracts – almost there!
Once all the legal work has been done, your solicitor will exchange contracts. This is the point where your deposit will be paid across, legally confirming you will be buying the property! This process usually takes around five weeks of you reserving your home.
Legal completion……and moving in!
Congratulations – you did it! On the day of completion, the money will be transferred from your solicitor to the seller and you become the legal owner of your new home. Then it's time to move in – definitely the most exciting and rewarding day of all!
If you're considering buying a Cavanna home, our helpful and knowledgeable teams are here to help you every step of the way. We have a range of current developments in some spectacular locations – visit our website to find out more: www.cavannahomes.co.uk. 
We are pleased to invite you to visit our show homes or marketing suites by booking an appointment. Please email info@cavannahomes.co.uk or the email address for the development you're interested in visiting, which can be found here. We're looking forward to welcoming you.