High levels of interest in newly built homes released during Rural Housing Week have underlined strong demand for affordable village homes in Staffordshire.
Leading affordable homes provider Housing Plus Group marked the national annual celebration of rural housing by showcasing 26 new homes on a development in the village of Coven. Thirteen of the homes in Saredon Gardens will be available for shared ownership and the remainder will be for social rent.
"It is some years since affordable housing has been built in Coven and the level of enquiries for shared ownership that we have already received demonstrates how difficult it is for people to purchase a home outright in these village communities," said Housing Plus Group development director Kerry Bolister.
"In Rural Housing Week we're not only focussing on the demand for this kind of property but also highlighting the vital role that affordable housing plays in sustaining thriving villages. Incoming families support village schools and new residents help to maintain the local facilities and shops that create such a strong sense of community."
Like many villages, Coven has experienced rising property prices which place home ownership beyond the reach of many prospective buyers. South Staffordshire District Council identified the site in its local development plan and local councillors visited the site to officially 'break ground' when Lovell Homes began building the mixed community of open market, shared ownership and homes to rent.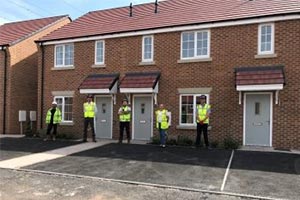 Shared ownership opportunities for two and three-bedroomed homes in Saredon Gardens start at just 25% of the property value, making it possible for more buyers to get onto the first rung of the property ladder. Purchasers can 'staircase' or increase the share of the house that they own as their circumstances change.  Importantly, the shared owners can never buy more than 80% of the value of their property, meaning that the homes will provide a long-lasting shared ownership resource in the village.
"We are really pleased to make these homes available in Coven because we know that shared ownership can be life-changing for purchasers, particularly in rural communities where it is so difficult to get a foothold in the housing market. The release of the first homes onto the market was a marvellous way to celebrate Rural Housing Week," said Kerry Bolister.
Housing Plus Group members include Stafford and Rural Homes, South Staffordshire Housing Association, Severnside Housing and Severn Homes. The Group has invested £20m in rural housing schemes over five years and confirmed plans to build up to 220 homes on residential development land in the south Staffordshire village of Perton. It is committed to starting work on 2000 new homes for rent, shared ownership and outright sale by 2023.
Further details about the shared ownership properties in Saredon Gardens can be obtained from Severn Homes. Information about how to apply for rented homes in the new development is available on the Stafford and Rural Homes website.