If you're anything like to Homefocus team, you'll want to stay ahead of the interior trends when planning decorating projects. Here, interiors experts provide their opinion on the 2020 Dulux Colour of the Year – Tranquil Dawn – as well as how to work with this hue in the home.
Tranquil Dawn is a hazy, fresh sea green that signifies new beginnings for interior design – it encourages human connection and is a nod to the new decade we're about to enter. It's also a great neutral, calming colour yet can be complemented by dark, dramatic tones or brightened up with whites and yellows.
Wallpaper that works with Tranquil Dawn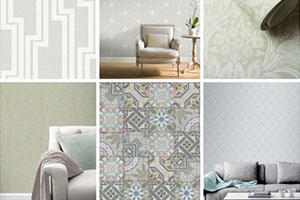 By Alex Whitecroft, head of design at www.iwantwallpaper.co.uk 
"Tranquil Dawn - what a brilliant colour to use in the home!
"Being as close to neutral as a green tone can get, it's very easy to work with.  When using on walls I'd recommend a patterned wallpaper to add some visual interest and even texture.  This can work really well if you're using wallpaper as a feature wall alongside the paint colour.
"Something like the Rasch Moroccan Baroque Tile wallpaper (left) picks up similar 'sea-inspired' tones that will really bring the look together." 
Other Tranquil Dawn inspired wallpapers available from www.iwantwallpaper.co.uk include:
Erismann

Graphic Arts Geometric Modern Line Wallpaper - £13.99 per roll

Arthouse

Parallel Geometric Metallic Line Wallpaper - £11.99 

Grandeco

Diamond Embossed Wavy Line Wallpaper - £13.99 
Holden Decor

Harlen

Woodland Leaf Wallpaper - £10.99 

Arthouse

Fossil Textured Stripe Geometric Wave Wallpaper - £13.99 

Muriva

Geometric Line Triangle Metallic Wallpaper - £12.99 
Plain and Patterned Rugs in Tranquil Dawn
Colourways
By Daniel Prendergast, Design Director at www.therugseller.co.uk
"Rugs in this breezy sea green are eally easy and cost effective ways to update interiors in this fresh new colour and will instantly give high impact to a scheme.  
"My top pick for introducing Tranquil Dawn into a home would be the Espirit circular crochet rug. Hand woven from 100% natural jute yarn, it has the rustic elements needed for homeowners to feel reconnected with nature – a key inspiration behind Dulux's colour choice – and, because the fibres are 100% bio-degradable and recyclable, it's a very environmentally friendly option too.
"With its calming influence, Tranquil Dawn is also a great colour to use alongside the Japanese interior design influences we've seen coming through in recent years.  Our Bamboo Rug by Florence Broadhurst is ideal."
Rugs which complement Tranquil Dawn from therugseller.co.uk:
Loft Rug in Mint Green – from £99 
Violet Rug by Ted Baker in Mint Green – from £419
Vita 13 Rug by

Nourison

in Sage – from £249 
Japanese Bamboo Rug by Florence

Broadhurst

in Jade – from £489 
Crochet Circular Rug by Esprit in Green - £115
Vita 11 Rug by

Nourison

in Sage from £249 
Blinds and Curtains for a 'Tranquil Dawn'
By Lorna McAleer, head of design at www.stylestudio.co.uk
"This is a colour we've favoured for some time here at Style Studio and it is available across most of our products – including Roman and curtain fabrics as well as our innovative Mirage Roller blinds.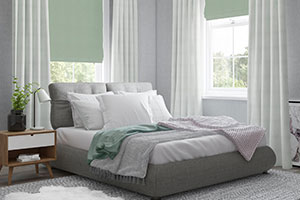 "Dulux has commented on how technological advances, designed to connect us, are actually having the opposite effect, as society becomes more fragmented.  So, for me, Tranquil Dawn should be used to create a more sociable home – in rooms designed for eating together and sharing family time.
"We've styled it with contrasting dark dramatic colours – such as deep dark blues and dark greys as well as natural wood accessories. This gives a dramatic, high impact overall look to transcend the seasons.
"It's a fantastic colour for bathrooms too, especially at windows where the breezy sea hues shine through sheer fabrics and into the room." 
Style Studio made to measure Roman blinds (from £188) and Style Studio made to measure curtains (from £264 a pair)
Mirage blinds start at £129 for a made to measure

600mm

x

600mm

blind by Style Studio.
Visit www.stylestudio.co.uk for stockists.
Tranquil Dawn Window Fabrics - Apollo Blinds
By Matt Thomas at Apollo Blinds
"Tranquil Dawn provides a fresh twist on the greys we've become accustomed to in interior design.  There are plenty of patterned fabrics from our Roman blind, curtain and cushion collection to match Tranquil Dawn that can be coordinated throughout the room.
"Shutters also look amazing with this colour, especially as Apollo operates a colour match service that can perfectly match shutters to any shade. Alternatively, a crisp white, soft grey or natural timber would beautifully complement this colour on the walls."
Apollo Blinds supply made-to-measure Roman blinds and curtains – for an in home quote visit apollo-blinds.co.uk