Now that the warmer weather is finally here, it's time to think about changing your bedding and choosing the right duvet.
An adult can lose up to a litre of sweat in one night and the thicker winter duvets that you enjoy in the colder months provide a completely different experience to lighter summer duvets. 
If you need help choosing the right filling, cover or Tog for the season, Angela Moran, Product Strategy Director at
Silentnight

, provides 10 '

TogTips'

to help choosing the right duvet a bit easier.
1) Know what a Tog is.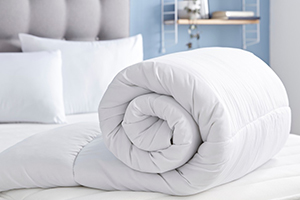 The Tog is a scale of warmth in a duvet - NOT its thickness. It measures the effectiveness of a material's thermal insulation, which is its ability to trap warmth from the body.
2) The Tog ratings mean different products work best at different times of year. 
Togs range from 1 Tog through to 15 Tog. A duvet that traps and provides heat in winter (13.5 Tog), is likely to make you overheat in Summer, so it is important to have different products when choosing the right duvet, so that you can adapt.
3) Know your natural fillings….
Down pillows and duvets use lighter, smaller, fluffier feathers, which are collected from the breast area of the bird. Feathers are heavier than down, larger and more substantial - but less expensive. A combination of the two can provide a balance.
4)…And your synthetic ones….
Technological advancements mean synthetic bedding is now better than ever. Hollowfibres vary according to the blend of materials, size of holes within the fibres and manufacturing process, which can actively blow air into the fibres to increase the softness. Materials can even wick sweat away from the body in some duvets, making them ideal for warmer months.
5) …And how they work.
Natural filled duvets trap air to retain heat to create a light, warm and comfortable duvet. They may feel lighter when compared to synthetic duvets but their insulating properties are far greater. Synthetic duvets are more durable and can be washed regularly which is a great factor when choosing the right duvet.

6) Adults and children need different togs.
18 C is the ideal temperature for a child's bedroom (duvets are not recommended for children under one year of age). Once they are old enough, lighter togs should be used for children, as the duvets can hold more air around their smaller bodies, warming them more quickly. The ideal tog rating for a child is 4.5 tog.
7) Consider allergies.
Allergies tend to increase in Summer. 25% of all allergies and 50% of all asthmatic conditions are directly attributable to the allergens the house dustmite produces, which are particularly found in beds and bedding. The Silentnight Anti-Allergy range includes duvets, pillows and protectors to help with this.
8) Bedding isn't just your duvet and pillow.
You are likely to sweat more in Summer, so consider adding a mattress protector to your bed if you don't already have one. Likewise pillow protectors.
9) Consider other 'top of bed' products
Some people choose to use two lower tog duvets within one cover at Winter, simply removing one of them as the weather gets milder. An alternative is to have a textured coverlet on the lower part of the bed, which adds a nice decorative touch, but also means you can add warmth on cooler summer evenings when needed.
10) Wash your bedding and store carefully.
Your synthetic hollowfibre bedding call all be washed quite safely at home, so wash and ensure it is dry it before storing it in protective covers until you next need it. Rewash and dry and air thoroughly before placing it back on your bed in Winter. 
To read more articles like choosing the right duvet please visit the blog section on the HomeFocus website