Editor Victoria Galligan tried out the Philips Hue smart lighting system – read her review to find out why she'll never go back to boring bulbs…
Philips Hue White and
Colour

Ambience Wireless Lighting - £169.99 
The lighting revolution is here – and it's

rainbow-coloured
When I was asked to review the Philips Hue smart lightbulbs I was quite pleased as I had just bought two new lamps for my living room. Plus, I was often being berated by family members for leaving the lights on all day. However, I wasn't sure how something as simple as changing the lightbulbs would enhance my home lighting experience. Well, I was about to find out…
Setting up the Hue was relatively easy – this pack comes with three bulbs, a Hue 'Bridge' device which connects via a wire to your wifi modem, and a dimmer switch which you can stick on a wall or magnetically attach to something in your home. After screwing in two of the bulbs (the types available are B22, E27, GU10 spotlights and E14 for smaller lamps, as well as strip lighting and garden lighting if you're feeling particularly creative) I installed an app on my phone. After a couple of app updates, I was ready to go. I had to link the Bridge to the app, then name my room and the different lamps – mine were 'Stand-up lamp' and 'Small lamp' to keep things easy for all users. Mr G also downloaded the app and connected to the Bridge. ​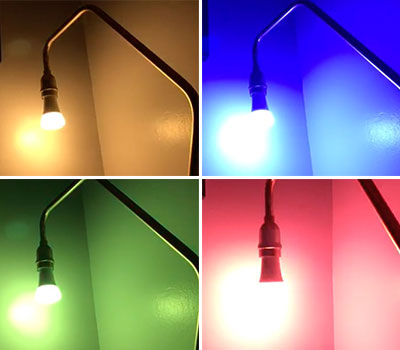 Then the magic began. Our living room is pretty dark as it's north-facing, so we have the lights on during dull mornings when we're at home as well as in the evenings. We experimented with the colours, first choosing from the 16 million – yes that's right! – different colours available on the Hue colour wheel. The app also has pre-set mood lighting called "Scenes", so you can choose, for example, a scene called Savannah Sunset – where one lamp turned golden and another a rich burnt orange. 
Automatic lighting with security benefits
On exploring the app I found the time settings, where you can pre-program the lights to turn on and off, and also the automatic 'Out of Home Control' option which switches off the lights when you leave home. In addition I found a great security hack where, if you buy an outdoor motion sensor (£44.99), your indoor lights can be switched on if someone approaches your home at night – perfect for putting burglars off targeting your property. 
We relaxed to Sunset Savannah and, like clockwork, the lights dimmed and faded at bedtime (this can be done gradually over 30 minutes to lull you to sleep – perfect for the bedroom). In the morning, our two young daughters were fascinated by the lights and so opted to watch cartoons under the pinkest shade we could find. And with 16million hues to choose from, I'm sure we'll have plenty more colourful requests in future!
This home lighting system is well worth investing in – as the Hue can be operated by Alexa and controlled while you're out via the app, setting the lights to come on in the evening when you're out at work and even on holiday is a doddle and a great security measure. If you expand across the whole house and even the garden, the possibilities are endless. Imagine bespoke, colourful mood lighting in every area… and you'll never need to worry about leaving the lights on again!
Buy your Philips Hue smart lighting products from meethue.com