After spending almost four years renovating their 300-year-old cottage, 30-year-old Gary Rivenberg and Scott Davey decided to put down their paintbrushes, pack up and move into a modern new build home at Cavanna Homes' Broadleigh Park development in Tavistock.
"Scott and myself bought our first home together three and a half years ago. It was a beautiful 300-year-old cottage in Bere Alston, a small village near Yelverton, however, it needed a lot of renovation and redecorating" said Gary, a Business Analyst for BT. "After a lot of busy weekends painting and decorating, we decided to sell our cottage and look at buying a new build home.
"Scott works at Derriford Hospital and although I primarily work from home, I also travel for work, so being more connected and closer to the main road was on our checklist.
"We started looking at new build developments near Tavistock, but we found a lot of the homes lacked character and felt very clinical. There also wasn't much green open space, which was important to us and Holly, our dog who loves to go outside and explore.
"When we looked around Cavanna Homes' Broadleigh Park development, we instantly fell in love with the character of the homes and the site layout – it's really spacious and has plenty of green open space.
"Our minds were firmly made up when we saw the four-bedroom detached 'Corndon' style home with its distinct character and style with an arched entrance to the house, which was a selling point for us. We reserved our new dream home immediately.
"The Sales Advisor told us about their Part-Exchange scheme and reassured us that we could move into our new home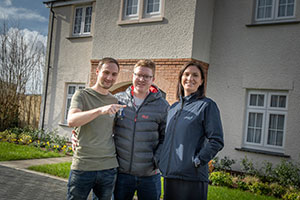 within six weeks. As we wanted to be in and settled before Christmas, we decided to use Part-Exchange and it was the perfect choice for us.
"At first, we were slightly dubious that the offer we would get on our cottage would be lower than the market value, but Cavanna Homes gave us a really reasonable offer that we couldn't refuse!
"We would definitely recommend using Part-Exchange to other people looking to move home.
"We moved in within five and a half weeks on 11th December, with enough time to get settled in before Christmas.
"Boxing Day was the first test for us in our new home, as we had 20 people come to us! It worked brilliantly. We have a spacious open plan kitchen / dining room with a breakfast bar which came in use. In our dining area we have an 8-seater dining table which extended to fit 12 people comfortably, and with plenty of room to still cook and move around in the kitchen.
"There is a common misconception that the rooms in new build homes will be small and boxy, however, this wasn't the case for us; there is plenty of space, especially for me working from home. Broadleigh Park has fibre broadband to the premises, which is really good for Tavistock and allows me to make Skype and conference calls from home without worrying about signal or call quality.
"It's a fantastic new community at Broadleigh Park. All our neighbours are really friendly and always say hello and there's a good mix of people of all ages here.
"Before moving in we were concerned that with living on a live site there would be lots of mess and noise, but this hasn't been the case. We can't hear any building or construction noise and the site is always kept clean and tidy, particularly the roads. We've been really pleased with everything.
"The Sales Advisor and Assistant Site Manager have been brilliant – we've received great service! When we moved in, we had a few minor snags which we reasonably would expect with any new build, but everyone who has come to the house has been on time, quick and tidy, which has allowed me to continue working from home with minimal disruption" added Gary.
Sales Advisor, Karen Overton said: "Our new homes are getting snapped up by home-seekers looking to move to this fantastic location. Broadleigh Park is one mile from Tavistock town, surrounded by countryside, and 80% of our new homes come with electric charging points to charge electric vehicles.
"If anyone is looking to find out more about our selection of two to four-bedroom homes, or our buying schemes such as Part Exchange, then we encourage them to come and visit us.
"Gary and Scott are a fantastic addition to our new community here at Broadleigh Park."
For more information about Broadleigh Park, call 01822 678414 or visit www.cavannahomes.co.uk. The Show Home and Marketing Suite are open daily from 10am – 5pm.