Almost half (48%) of UK renters believe they will never own their own home, with 45% saying deposit affordability is the top reason for being unable to become a homeowner. Savvy London renter, Maddy Smith, managed to overcome the hurdles of homeownership. By using Notting Hill Genesis' Shared Ownership scheme, she successfully purchased a one-bedroom apartment at the award-winning Woodberry Down development, nestled on the banks of Woodberry Wetlands and close to Finsbury Park in north London.  
30-year-old first time buyer Maddy explains: "I was already renting a two-bedroom apartment with a friend at Woodberry Down for a little over two years, so I knew I liked the area and was already very keen on the development. Whilst it was lovely living with a friend, I felt it was time to live on my own and have my own space. I looked into renting a one-bedroom apartment, but it was actually going to be more expensive per month than it would be buying through Shared Ownership, so it was a no-brainer really! I did some investigating, registered myself on the Share to Buy website, and paid a visit to the London Home Show. That's where I met the representatives for Notting Hill Genesis, they outlined plans for the Shared Ownership scheme at Woodberry Down – already living there, I knew it would be perfect for me! The apartments weren't even ready to view, but I registered my interest from seeing the floorplans. As soon as they became available, I put my offer in on the Saturday and was lucky enough to be allocated the apartment I had chosen by the Monday, I didn't actually get to view the apartment for another two months! I knew the spec was good and as I had knowledge of the development and area, I didn't feel nervous doing things that way."
Maddy continues: "I had put money into my savings over quite a few years, and decided to be really strict with myself for a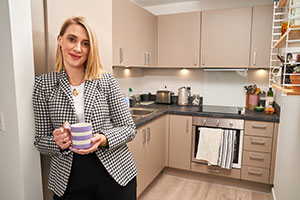 year so I could save the rest of the deposit I needed. I sacrificed things like going out and going on holidays and each month I put money aside the day I was paid. If I was gifted any money for my birthday or at Christmas, I would put that away as well as any large sums of money I received from work, through bonuses. I also used a Monzo card which allowed me to keep track of my spending and meant I had a monthly budget that I would stick to. I purchased a 35% share of a one-bedroom apartment, priced at £385,000 using a 10% deposit. My total monthly outgoings are around £1,200 which is only a fraction more than I was paying while renting, but now I have my own home and my own space which is exactly what I wanted, and it is has definitely been worth the investment."
Maddy explains: "The development is located next to the East and West Hackney reservoirs on the Woodberry Wetlands, it's a lovely setting and not something you often have access to in such a central location. Coalhouse Café is nearby and I often go there for brunch with friends. The area itself is really well-connected, I often go to Finsbury Park or Stoke Newington which is only a 20-minute walk away, and can easily get to Hackney and Bethnal Green where some of my friends live. I work at Kings Cross, it's a 10-minute walk to Manor House tube station which is on the Piccadilly line. From there it takes me around 25-minutes to get to work. Or there is also a bus stop less than 5-minutes' walk away, which takes a bit longer but is a handy alternative route."
Speaking about Notting Hill Genesis' Shared Ownership scheme, Maddy comments: "Without Shared Ownership I wouldn't have been able to get my foot onto the property ladder in my current financial situation. It's a great solution for people who want to move away from the renting trap and provides an affordable way into homeownership. Renting, especially in London, has always felt quite precarious for me, so this has given me a level of reassurance and stability that I didn't have before and I am also investing in something for the future. Shared Ownership has meant I could afford a much more manageable deposit than purchasing on the open market. I feel incredibly lucky to have been able to buy my own home, and would definitely recommend Shared Ownership and Notting Hill Genesis. They were incredibly patient with me, and took time to walk me through the process and were there for every step of the purchase."
"I love my apartment, its lovely and new, a really good size and has lots of storage space. No one has lived there before me which really appealed to me. I also have access to the onsite gym which I use a lot and it's included in my service charge, so it means I have no expensive gym memberships to pay for! I would love to be able to staircase in the future to increase my share in the property, however for now I'm happy to be here."
The next phase of homes at Woodberry Down will be available from 2020 and offer a collection of 62 one and two bedroom Shared Ownership apartments. For more information about Woodberry Down or any other developments by Notting Hill Genesis, visit www.nhgsales.com or call 033 3000 4000 to speak with a member of the sales team.