Who says you have to jet off to get your annual fix of sun, sea and sand? Oak Furnitureland shares some of its tips and tricks for bringing the bright and breezy coastal feeling a little closer to home.
Seaside shades
​The coastal trend is timeless, it never goes out of fashion. When you're choosing your sea-inspired palette, don't be too anchored to navy, use a spectrum of blues as accents. Explore soft greys too to make it more contemporary; pale neutral backdrops let sea blues and beachy tones pop and stops things from becoming too clichéd.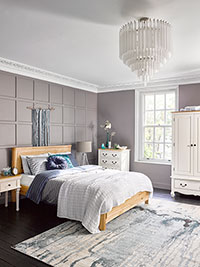 Coastal comfort
Blue sofas and armchairs are a classic feature in coastal schemes. You want to be able to put your feet up without fussing, so choose shapes, styles and hard-wearing fabrics that capture that happy go lucky vacay vibe.
Beachy textures and linens
One of the reasons we love the coastal trend so much is because it makes us feel instantly relaxed. Choose a softening mix of tactile natural textures in complementary tones, particularly in the bedroom where you want to feel calm and cosy. Create a layered effect using lightweight cotton stripes, deep indigo denim and softly crinkled linen to make a sumptuous space to drift off.
Bright and breezy spaces
You can try and maximise natural light by minimising window dressing. In areas where you don't need heavier drapes, try sheer voiles and make the most of mirrors to bounce light back into the room. Rather than hanging a mirror, for a more casual look try resting it against the wall. Keeping the colour of the walls and floors pale will also help to brighten your space.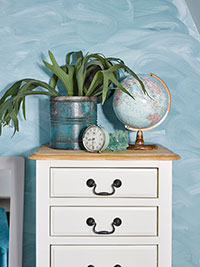 Nautical spaciousness
Are your tastes fish and chips or Champagne and oysters? Dress the coastal look up or down depending on which location you're using as the inspiration for your seaside scheme. 
If you're after shipshape, move away from driftwood and sun-bleached shades and consider using inky blues, moody greys and tactile touches of velvet. This living room has a maritime feel and features sofas with striped seat cushions and contrasting piping. The darker shade of wood on the feet also helps to make it feel more elegant.
Take the plunge with paint effects
The coastal theme lends itself brilliantly to playing with paint effects. Stylist Joanna Thornhill suggests diluting emulsions and eggshells with water to create a washed effect on the walls. "Let the paint drip naturally or move it like wave-like patterns with a sponge. Dip your toe in the water and restrict it to a feature wall, using masking tape around the edges while you work, or go for it and apply the effect to the entire room." 
Sunny hues and wavy curves
Painted furniture in chalky white and sun-kissed natural timbers are a perfect combo to transport you straight to the seaside. Set against the stormy shade on this wall, the beautiful oak timber of this bed looks like a ray of sunshine peeking out from behinds the clouds.
Walls and floors
Beach hut style cladding is the perfect way to add charm and warmth to a scheme, whether you leave the natural timber on show or opt for a splash of blue. Floorboards work brilliantly for this look too. If it feels stark, sisal rugs and runners are great for adding texture. 
Finish the look
A coastal look doesn't always mean you have to resort to anchors, deckchair stripes and boats. Choosing beautiful glasses, tableware and accessories in sea-inspired shades and subtle kelp-like decorative foliage, for example, is an effective interpretation of the theme.