A local housebuilder is inviting homebuyers for an exclusive behind-the-scenes look of its Towcester development.
Prospective house buyers will be able to have an exclusive look at Redrow Homes South Midlands' Burcote Park development, on Burcote Road, from 10am-5.30pm on Saturday 21 September, as part of its 'behind-the-scenes' weekend.
Visitors will be able to enjoy a guided tour of the 196-home development, and see areas of the site that are not normally open to the public. This will give prospective homebuyers the perfect opportunity to see the great location of the homes first-hand.
The team will also be on hand to talk through the two, three and four-bedroom homes that are currently being constructed.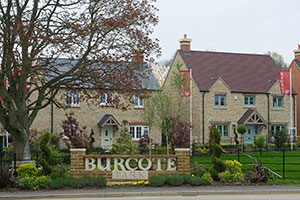 Tonia Tyler, Sales Director for Redrow Homes South Midlands, said: "We want to give people in Towcester an exclusive, behind-the-scenes, tour of our development, so they can see for themselves how great the location is.
"The 'Dusty Boots' weekend is a great opportunity to look around Burcote Park and see how the development is progressing, and to ask any questions about the new homes being constructed.  
"I would encourage those interested in buying a home in Towcester to consider coming along to this event, as we will be able to give the advice you need to help you buy the home of your dreams."
Nestled in 59 acres of parkland and set in stunning Northamptonshire countryside, Burcote Park offers a choice of three, four and five-bedroom properties in the historic Roman market town of Towcester. With outstanding local schools and direct trains to London Euston in less than an hour, the development is ideal for families looking to enjoy the fresh air of the country.
To find out more about homes at Burcote Park, please call 01327 437 822 or visit:
redrow.co.uk/developments/burcote-park-wood-burcote-222381