L&Q and The Anderson Group set to launch a collection of new properties at south-east London's new eco-development, The Quarry.
On Saturday 28th September, a new collection of 1, 2, 3 and 4-bedroom homes was launched at award-winning eco-development, The Quarry ─ offering prospective residents an opportunity to join the growing family-friendly community in Erith, Bexley.
Located just a 40-minute train ride from central London, the new launch of homes will feature properties catering for both young professionals looking to get their foot on the property ladder, as well as families seeking to upsize.
Properties will range from 1-bedroom studio apartments to 4-bedroom detached houses, with prices starting from £225,000. All homes are eligible for London's 40% Help to Buy equity loan.
Every home at The Quarry has been carefully designed with the needs of modern-day residents in mind. These competitively priced properties will offer potential buyers spacious, high-quality homes, all with outdoor space and parking available.
Properties are designed to make the most of natural light, and all have open plan kitchen and dining/living areas, some of which will treat residents to long views across the River Thames and green spaces. Residents can also enjoy safe cycle routes and walking paths that intersect across the site.
The Quarry is an ecologically conscious development that has breathed new life into the historic site of a former working quarry.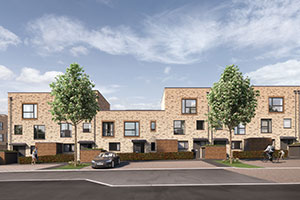 With sustainability at its heart, the development is encompassed by a host of green spaces, while generous outdoor areas, including a 3.25-hectare ecology area, ecology corridors and a village green further enhance the sense of community and contributes to the family-friendly ethos of the development.
Extensive work has also been carried out across the site to retain and enhance the ecological value of the land, including the installation of bird boxes and insect houses alongside a tree planting scheme
This development will provide 600 new homes, to be launched across several phases, in line with the existing planning proposal.
Vicky Savage, London Managing Director at L&Q said:
"We are excited to be launching the third phase of homes at The Quarry, welcoming more residents to the development's thriving community. This phase includes a range of 1, 2, 3, and 4-bedroom homes, providing the perfect choice for both young professionals and families looking to put down roots.
"We are thrilled to see the community at The Quarry continuing to grow, as more homeowners get the chance to enjoy the unique offering of our fantastic eco-development."
Sean Emmett, Group Development Director at The Anderson Group added:
"It has been incredible to see the transformation that has taken place at The Quarry, bringing a vibrant new neighbourhood to previously neglected land. We're all looking forward to welcoming the new residents to the community with the launch of this third phase of homes."
This year The Quarry has won awards for Best First Time Buyer Family Home at the First Time Buyer Readers' Awards, as well as Highly Commended in the Best Affordable Homes category at the London Evening Standard New Homes Awards.
People can register their interest at: www.lqhomes.com/thequarry.
To visit the show home, call 0333 0033 737 to book an appointment.