Existing homeowners searching to upgrade their current property for a brand new David Wilson home in Bedfordshire are being encouraged to enquire about the Part exchange scheme available at Willow Grove. 
Homebuyers, Neville and Jane Styles recently took advantage of the bespoke scheme that helps your move to be as smooth and stress free as possible.
Neville said: "We used the David Wilson homes' Part Exchange scheme when buying our home at Willow Grove and our whole experience was excellent.

"The staff in the marketing suite could not have been more helpful throughout the process, the updates from them, including the weekly progress photos of our property, were spot on."
The popular initiative offers property seekers a guaranteed buyer at a fair market value, and when the home is ready, residents can move in when the time is convenient for them. 
When a homebuyer has found their dream David Wilson home, the developer will arrange for two independent valuations of their current property.
Then, the buyer will agree a selling price for their existing home, when the offer has been accepted, David Wilson Homes will buy the property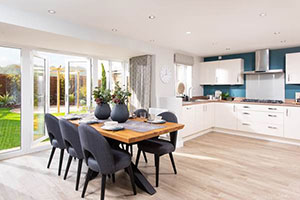 and take it in part exchange for their new home. 
Neville and Jane upsized from their three bedroom terrace house to a four bedroom detached Holden style home at the David Wilson Homes Willow Grove development in Wixams, to make room for their daughter. 
Alison Raine, Sales Director at David Wilson Homes Northampton, said: "We're pleased to hear that Neville and Jane are settled into their new home at Willow Grove and are happy with the service that they received. 
"This scheme is a great opportunity for those who want to move but do not want to deal with the added stress that comes with selling their current property."
Located in the welcoming and established community of Wixams Village, this family-friendly development is set within a country park.
Neville, said: "The local area is very scenic with nice walks and a lake nearby and the development is within walking distance of schools which will be great for us in a few years.

"The Holden home has the best offerings to suit us with a big garden that isn't overlooked and extra driveway space."
Willow Grove, in Wixams, currently has a range of five bedroom homes available to reserve.
Beautifully designed, these new homes combine a quality build with a high spec interior for modern day living, this is a lovely place for families to call home.
Residents benefit from excellent commuter links as the development is located close to key roads including the A6, A421 and M1, which makes travelling to nearby towns and cities such as Milton Keynes easy.
Willow Grove is open Monday from 12:30pm until 5:30pm and Tuesday to Sunday between 10am and 5:30pm.
For more information about any David Wilson Homes developments in the area, visit the website at www.dwh.co.uk or call the sales line on 033 3355 8482.