If you're looking to refresh your living space this Autumn, why not explore some of the season's top interior trends at ScS? Whether it's luxe fabrics, woodland materials or introducing blocks of colour, with these top picks from one of the UK's largest furniture specialist, staying in this Autumn has never been so appealing!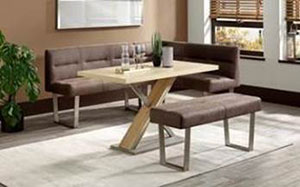 Moving on from

Scandi-Chic
The Nordic countries continue to influence the UK home interiors market with their effortlessly stylish and modern approach to living. The Riviera Corner dining set combines a stainless-steel design with a sleek wood finish to make a contemporary statement in any home. With smooth, clean lines, this unique dining set will elevate your space and give it a polished look.
Currently priced at: £999
https://www.scs.co.uk/riviera-lhf-corner-dining-set/L040336.html
(take a further £100 off this price with our special money-off vouchers valid until 25/11/18, available both in-store and online)
Country Chic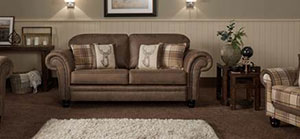 Natural influences will be prevalent this Autumn, with florals, animal prints and country chic all helping bring the outdoors inside. The ScS Kendall 3-Seater Sofa adds both style and elegance to any home. Complete with hardwood legs with antique brass studding and available in four colour options, this sofa is sure to add an authentic country feel to your room. This country classic collection also includes a range of accents chairs and footstools to complete your look.
Currently priced at: £565 (reduced from £1,239 until 20th January)
A touch of Luxe
Rich and tactile fabrics are the in-thing this Autumn and this Alexis 3 Seater Sofa Scatter Back velvet sofa offers a unique and glamorous focal point to any room. Available in a range of colours, each piece is complete with deep seats and fluted arms, with painted hardwood feet and silver stud detailing.
Currently priced at: £765 – (reduced from £1,639 until 25th December)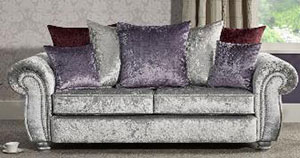 https://www.scs.co.uk/alexis-3-seater-sofa-scatter-back/L043308_BLING-COLLECTION-SILVER_SILVER-FT.html
Modern Neutrals
Polished wood is fast becoming the must-have item in any modern home and its sophisticated finish will help make your space look clean and stylish. With the ScS gold plus laminate flooring, you can achieve a luxury appearance at a great price. Pairing perfectly with Spiced Honey, the Dulux 2019 colour of the year, this flooring works well with either light or dark wood furnishings and will be sure to add a classy touch to your room.
Currently priced at: £18.39 per square metre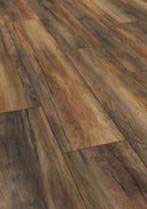 https://www.scs.co.uk/gold-plus-laminate/L039425.html
Say

goodbye

to

grey

with blocks of

colour
Colour is key this season, but don't panic, adding a pop of brightness to break up the usual beige and grey tones of your home is a great way of staying on trend. Look no further than the beautiful blue Spark 2 Seater Sofa which is the perfect statement piece, complete with chrome detail. Made in Britain and complete with on-trend geometric scatter cushions, you can be assured that this sofa will provide you with both quality and comfort.  
Currently priced at: £435 (reduced from £979 – until 20th January 2018)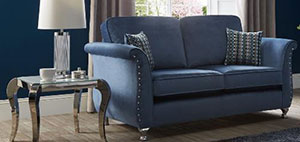 https://www.scs.co.uk/spark-2-seater-sofa/L042877_INDULGENCE-COLLECTION-BLUE_CHROME-FT.html
To find out more about ScS, please visit www.scs.co.uk