From accessories to big statement pieces, the key velvet additions for 2019. With a distinctive mix of glamour and charm, velvet is an interiors favourite right now, and it doesn't seem to be going anywhere anytime soon.
While the versatile texture and look is sure to bring a rich finish to any setting, how exactly do you incorporate such a bold trend into the home?
Rebecca Snowden, Interior Style Advisor at Furniture Choice discusses this elegant and unique fabric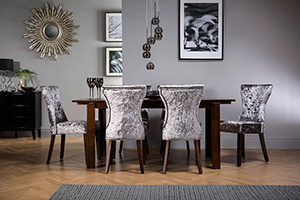 , from introducing small accessories to big statement pieces.
Accessorising with velvet

Bewley Velvet Button Back Dining Chair – from £59.99 – www.furniturechoice.co.uk
If you're looking to introduce the velvet trend around the home without making big purchases, start off small with accents and accessories.
"Velvet accessories like lamp shades, cushions and poufs are incredibly on-trend, and can transform a room regardless of the season," says Rebecca. "These details add a wow factor no matter the shade, and are an easy way to embrace the look without having to make any big changes."
Statement furniture
Hampton Velvet Sofa Range - £599.99 – www.furniturechoice.co.uk
For a bigger statement sure to turn heads, go bold with velvet furniture.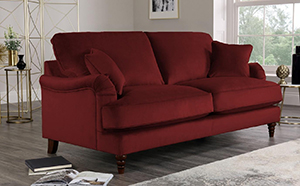 "Velvet sofas and armchairs will make a major impact in the living room, especially if they are fun, rich jewel tones," Rebecca suggests. "These showstoppers lend a glamorous look to the home and invite conversation, while anchoring the entire space. A classic velvet Chesterfield can offer an unexpected twist in deep blue; while modern, minimal rooms also allow for greater experimentation with colours such as wine and maroon."
The dining area and the bedroom are both perfect spaces to introduce velvet too. "Velvet dining chairs in any shade can easily jazz up a modern or classic dining space. Not only do they add charm, but they are also more comfortable over long meals," says Rebecca. "Drawing in the eye, a velvet bed frame is a perfect addition to the bedroom. Its soft, comforting finish turns up the cosy factor, giving the room a warm, relaxed ambience."
Combining textures with velvet
Charleston Velvet Sofa Range - £649.99 – www.furniturechoice.co.uk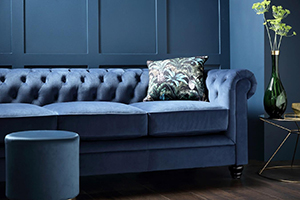 With such a bold trend, it can be difficult to know how to pair with other styles in the home, but don't be afraid to mix velvet with other textures and embrace it alongside other trends such as soft pastels, botanical and regal tones.
"Incorporating the fabric into the home with smaller pieces is a great way to begin, as pairing velvet works well alongside a mix of different finishes and details. Velvet's soft, inviting look blends beautifully with brass and bronze, adding depth, drama and sophistication. It also complements other fabrics like faux fur and knits, making it great for layering up during the colder months," advises Rebecca.
Choosing the correct palette
The great thing about velvet is that it works in just about any shade. From deep navy to jewel yellow or even pastel pink, no matter what your preference, bringing velvet into your home is a breeze.
"If you're looking to make a statement with your velvet furniture and furnishings, go bold with your colours and tone down the surrounding space with soft, neutral shades to really let the velvet pop."
"Alternatively, if you favour a bold wall such as navy or forest green, why not pair with a pastel pink velvet sofa or armchair?" Rebecca says.
To learn more about how to introduce velvet into your home and the best aftercare methods, please visit: https://www.furniturechoice.co.uk/advice-and-inspiration/guide-to-velvet-furniture_a10000031