Homefocus editor Victoria Galligan took delivery of her real Christmas tree from Pines and Needles over the festive period and says you'll never go back to artificial trees after spruce-ing up your home with one of these beauties…
No home is complete in the festive season without a Christmas tree – and in our house, a real pine is a must. Our family, like millions across the world, have become increasingly conscious in recent years of our carbon footprint and it seems quite odd that we've spent years decorating a fake, plastic tree when we could have been supporting the growth of an actual tree!
For even the short time that a pine grows – around five years for a small tree – it absorbs as much CO2 as it produces, making it truly carbon neutral. Yes, there are other implications to consider such as road miles – where did my real tree travel from, I hear you cry! Scotland is the answer. Where do most artificial trees hail from? Overseas, I cry back. Mostly from China, according to the British Christmas Tree Growers Association. Further reason to buy real and buy British when it comes to Christmas trees. 
But perhaps a real tree is impractical – maybe you don't have transport or you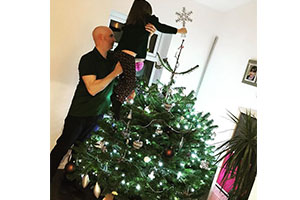 don't want the faff of lugging home a huge pine in your pristine car. Well, Pines and Needles make this part super easy. Just order the tree you want online, with a proper base to stand it in and water every day (real Christmas trees need three pints of water a day to stay fresh longer!) and the tree will be delivered straight to your Christmas wreath-bedecked front door.
Ours was plump, a lush green Nordmann fir, with no squashed branches or brown bits which usually result in hours of twisting the tree around and rearranging the baubles to cover up the bald patches.
Expertly decorated by our children, there were a few needles on the floor when we'd finished – but since we swept up and watered the tree, there have been very few needles dropped.
The authentic smell of the tree and the natural shape of it really make a difference compared to artificial, factory-produced trees and visitors are really impressed by the way it dominates the room – it's nearly as wide as it is tall and we love it (more room for presents underneath!).
And, to top it all off, we can be safe in the knowledge that our year has ended in a carbon-neutral way. Now, where did I leave my recycled wrapping paper…?
How Pines and Needles ensure they play their part in helping the planet:
• "Pines and Needles is carbon positive for most of the year as our trees absorb carbon and emit oxygen. During the Christmas season Pines and Needles is carbon neutral as any emissions from transportation and delivery vehicles is offset by the trees still growing in our plantations."
• "We mainly use British trees from sustainable forests – less air and land miles means reduced emissions!"
• "Pines and Needles mainly uses diesel fuel and has several LPG vans, but is endeavouring to replace its delivery vans with electronic vehicles."
• "Increasingly Pines and Needles is switching to organically-grown trees. Pesticides can upset the balance of fragile ecosystems."
The history of Pines and Needles: 
Samuel Lyle sold his first Christmas tree when he was just 13 years old. His father, who owns a farm in Scotland, was clearing an area of woodland and, being December, the Norwegian spruces were in demand. 
Pines  and Needles now sells 30,000 trees direct to customers and will wholesale a further 30,000 this year. It decorates and installs trees in some of the UK's most famous venues, from Wembley Stadium to Westminster Abbey, as well as supplying the biggest names in royalty and show business, from Prince Harry and Meghan Markle to Madonna and One Direction's Louis Tomlinson. 
Pines and Needles' top tips to look after your tree:
Prepare the trunk 
Just before you install your tree, saw off the bottom 1" (3cm) of the trunk. This creates a fresh cut and opens up the pores in the bark, which otherwise can block up with sap within a few hours of being cut. The tree is then able to drink water through these pores via capillary action. We do this to all our trees so you don't have to! 
They need routine
Do not expose your tree to sudden changes in temperature. Trees like most people are creatures of habit and prefer steady conditions.
Keep it away from any heat sources
Position your Christmas tree away from any heat sources such as radiators and fireplaces. Heat dries out your tree faster, so the further from potentially damaging heat sources the better, and the fresher your tree will remain.
Water your tree
Place your tree in plain water - not soil or sand which would block the pores in the bark. This is best achieved by using a specially designed Christmas tree stand. Many precious hours can be wasted trying to make a Christmas Tree stand up straight in an ordinary bucket using just bricks or stones!
Then keep on watering it
Keep the Christmas tree stand topped up with water. Your Christmas tree may drink 2-3 pints (1-2 litres) of water per day, depending on its size and your central heating settings.
This is very important as once the water level drops below the tree's trunk, sap will re-seal the bark within a few hours, preventing the tree from drinking any further water even if you then re-fill the Christmas tree stand. 
Order your Pines and Needles Tree today to ensure delivery for Christmas!