A rug can be the missing piece of the jigsaw in a bedroom; delivering cosy comfort and a design statement, as well as protecting carpets and floors.   And who wants to get out of bed and feel chilly floorboards under their feet?
Daniel Prendergast, design director at the UK's largest online rug and floor covering destination www.therugseller.co.uk, shares his picks of the best bedroom rugs for homeowners to sink their toes into.  He also shares this advice on choosing a bedroom rug:
"Bedrooms are a special place within the home, not only to rest and recuperate, but also a private space that reflects the owners' personality through its decor.
"Where rugs can anchor a bedroom, define it, add warmth and help to layer décor, they're often used as a 'finishing touch'.  Anyone struggling to choose a rug for their bedroom may find that flipping the usual design process and starting with the rug can have many benefits.
"The wonderful point about starting with the floor is that it gives you a chance to build a space piece by piece, rather than getting overwhelmed choosing all of the furniture and soft furnishings at once.
"It's also a great way to introduce bold colour and design, especially for those who are a little nervous about using colour in the home." 
Bedroom Design Ideas and Rugs to 'Get the Look
Bright and Boho - Purl Rugs from £99
From the multi-coloured artisan rug to the floaty window dressings and reclaimed furniture, everything about this room is relaxed and carefree.  The handwoven wool Purl rug provides some much-needed warmth and comfort underfoot, whilst adding to the artistic vibe. It's also certified with the Good Weave seal, which guarantees high ecological and social standards.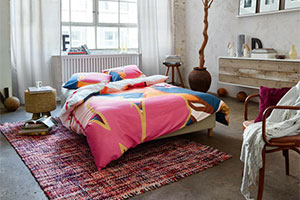 Pretty in Pink - Scion Sula Rug in Blush from £409
Pastel pink is the dominant colour in this room yet the dark, grounding floor and statement rug make it feel like a sophisticated, grown-up space. Patterns of varying scale harmonise within the room.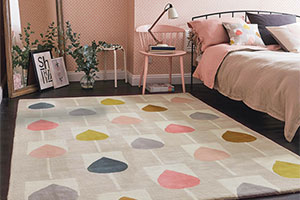 Large and Luxurious - Katherine Carnaby Chrome Rug in Tan from £569
An oversized rug creates a feeling of opulence and also saves having to install wall-to-wall carpeting.   This Katherine Carnaby rug has a slight sheen for added luxury.  A monochromatic colour scheme keeps things classic and understated.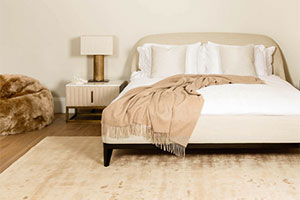 Cool Coastal - Reflection Rug in Blue from £379
Taking the dappled marine tones from the Espirit Reflection rug throughout the room keeps this scheme bright and breezy, especially when paired with gauzy fabrics and reclaimed wood.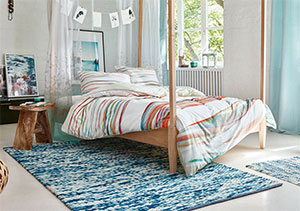 Pure and Simple - Yeti Rug in Light Grey from £539
The organic qualities of this pure wool Yeti rug complement the stunning light hardwood flooring in a natural 'unplugged' bedroom; both have a comfortable, 'lived in' feel.  The Yeti rug is hand-knotted in Nepal according to Tibetan tradition.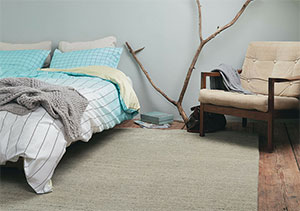 Turn up the Contrast - Triango Kelim Rug in Blue and Grey from £69
Deep bluey greens on the walls, floors and furniture merge boundaries within this room.  The lighter tones in the rug emerge from the floor, providing an anchor for the eye.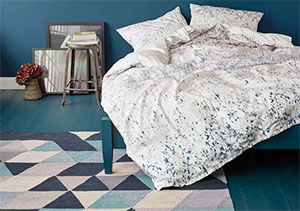 Go Green - Fiesta Rug in Green from £55
 
Picking up the green of the statement floral wallpaper the Fiesta rug gives the feeling of connect to nature and still allows the parquet flooring to shine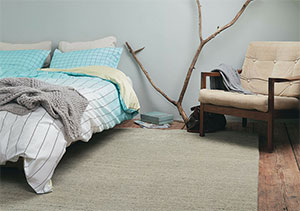 Neutrals - Weconhome Wild Oak Rug in Grey and Brown from £89
 
Cream and mocha tones combine with a statement bark-effect rug for a restful space.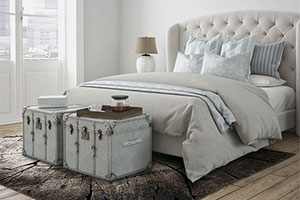 Walk on the Wild Side - Weconhome Zebra Rug in Grey from £89
 
Go wild in the bedroom with an oversized zebra print rug.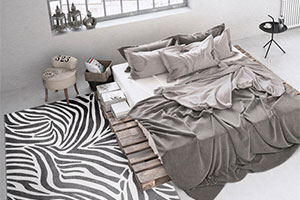 Colourful Marrakech - Weconhome Medina Rug from £79
Distinctive Moroccan rugs have been a huge trend in recent years.  Update for 2020 by bringing more colour into the design.  Notice how the diamond shapes within this rug mirror and highlight the stunning flooring in this loft style bedroom.