Inspired by fitted furniture trends appearing in some of Manhattan's most exclusive homes, the brand new Elise range at My Fitted Bedroom (myfittedbedroom.com) features a four-panel shaker door design and coordinating drawers, which can be tailored with countless finishes and made-to-measure for all bedroom spaces.
With a simple design and clean lines, the timeless Shaker bedroom furniture suits both contemporary and traditional homes.
The range is available in 29 colours, including brand new, striking Indigo Blue – one of 2020's most on trend hues. Other popular colours include Dove Grey, White Super Matt and natural wood finish, Super Oak.
Megan Baker, Head of Design at My Fitted Bedroom (www.myfittedbedroom.com) says:
"When planning new ranges, we take design cues from the latest trends whilst drawing on the knowledge of our expert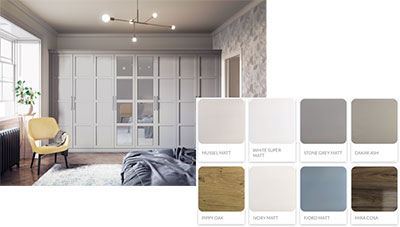 team of designers.
"The Elise range is inspired by the fitted furniture trends we're seeing in high-end Manhattan properties, marrying striking, yet simple design with space-saving solutions.
"With Pantone recently announcing 'Classic Blue' as the Colour of the Year for 2020, the new Indigo Blue Elise is set to become a popular choice this year in bedrooms across the UK.
"Shaker style furniture is always a popular choice at My Fitted Bedroom. Avoiding overly intricate pillars and cornices, the charm of shaker furniture is its effortless straightforward design with signature panelled doors and warm natural wood surfaces.
 "For modern shaker style furniture, go for a gloss finish or bold colour choice paired with sleek bar handles for a modern finish. For a Period shaker style choose white or soft cream units and introduce wooden door knobs for a simple, comfortable bedroom."
The beauty of fitted furniture is that you can choose a design that complements your room shape and layout. This will give you a neater, more minimalist look and make the room look bigger. Clever storage can revolutionise your space and ensure your bedroom is a clutter-free and altogether more relaxing place.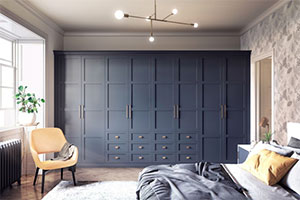 Fitted furniture eliminates unnecessary gaps, making the best possible use of the space available. It is also great for maximising space in awkward shaped rooms.
The new Elise range from My Fitted Bedroom is available with numerous interior organisers, such as pull out shelve and drawers, along with less traditional interior features including bespoke shoe and bag storage, beauty bays and suit organisers.
Prices for the new Elise range start from £3,450.
Visit myfittedbedroom.com to request a brochure or book a design appointment at home.