With 2020 now in full swing, the interior design specialists at www.Hillarys.co.uk have looked at current trends, patterns and sales in order to predict what interior trends we will see skyrocket in popularity throughout 2020!
 
Classic Blue
 
Pantonejust named its Colourof the Year 'Classic Blue' and we predict this will come through in lots of key trends in 2020. Pantonelikened the colourto that of the sky or sea and we think this will translate into 'natural' decors, with lots of natural wood and neutral, earthy shades. 'Classic Blue' can also transport you to a celestial realm when paired with rich, darker tones and metallic flashes.
 
Greyisn't going anywhere any time soon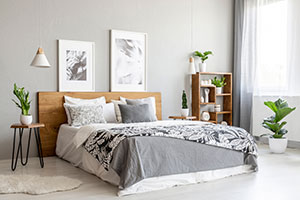 Greywill continue to be the choice of many across the UK, particularly when paired with splashes of mustard or blush pink for added warmth. Greyprovides a solid base to build upon; you can add bolder accents of colourif your base colouris grey. It also goes with everything, meaning if you get bored of your accents you can easily switch things up.
 
Boho
 
Bohostyle is going to be big this year, think Ibiza soul mixed with 70s disco. Simple, retro patterns will dominate with lilacs and oranges coming through. There will be an emphasis on hand crafted textiles and accessories- so a New Year's Resolution could be to dig out your old arts and crafts box and get busy.
 
Upcycling
 
Not just a fantastic way to save money, but you can truly get the furniture that you want for your space by upcyclingand decorating to your own tastes. Whether that means using furniture paint to restyle your kitchen cupboards, stripping the paint off an antique cabinet, or reupholstering your sofas or chairs, you'll truly have something unique to you and your home. One of the biggest changes you can make to your kitchen for the smallest amount of money is changing the cupboard handles – you can find beautiful unique handles at charity shops or antique fairs.
 
Eclectic Decor
 
Maximalismis here to stay this year with clashing patterns, styles and coloursforming a key trend of 2020. Thrift stores are going to be major style inspiration and the less 'matchy'the better, especially if you add major vintage vibes.  A great way to incorporate this trend into your home is to buy one roll of each of some wallpapers that you love, instead of numerous rolls of just one style and cut out either pentagons or hexagons (the same size and shape across all styles), before applying to your wall in a random order.
 
Glam it Up
 
Decadent Art Deco is the main theme of this trend, we are back in the 20s after all and it's going to start coming through in our interiors. Imagine Gatsby's party but more glam, lots of champagne, shimmering tassels and fringes and geometric, velvet prints.