Rebecca Snowden, Interior Style Advisor at FurnitureChoice.co.uk, shares three style tips for designing a home that's focused on mindful living. Helping you to create a home environment full of nature and calm colours, focusing on living well.
Searches for 'mindful living' in the UK have increased by 86% in the last 12 months¹, as wellness trends continue to be on the rise. 
Top tips on how to introduce mindful living into your home for 2020.
1. Clean and Calm Neutral Palette
Denver White Wooden Double Bed - £219.99 - www.furniturechoice.co.uk

Start by introducing a quality of softness into your home, coupled with interior design that's comforting and inviting. "Ultimately, the goal is to create a personal haven you'll love going home to relax in," advises Rebecca.
Make it a priority to get plenty of good quality sleep. In the bedroom, a white wooden bed presents the perfect starting point in a space meant for restful slumber. Introduce neutrals in varying tones for interest and depth. Some safe, perennial hues to experiment with include white, soft grey and the recently popular "greige".
Select comfortable bedding with minimal prints to focus on creating an uncluttered, restful environment. Where possible, go with furniture that features curves and organic lines instead of sharp, straight edges.
2.  Nature is Nurturing
Harlow Dove Grey 2 Seater Sofa - £399.99 - www.furniturechoice.co.uk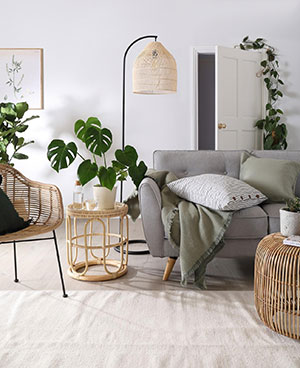 Nothing relaxes the mind more than being surrounded by nature; particularly, plants. Start the year on a green note by capitalising on the benefits of having indoor plants. Choose a mixture of large and small greenery, including varieties that help clean the air. Leafy, trailing plants also inject a little wildness to create a tropical-inspired ambience.
Besides making the air fresher, the lush green colour that houseplants offer can soothe the eyes after a long day of working with screens.
To continue the natural theme, pick furnishings made with materials like wood, rattan or clay. Rebecca says: "The warmth and rawness of their surfaces contribute to a design that has a soothing, back to nature vibe."
3. Dedicate a Corner for Conscious Relaxation
Milton Dining Table White - £149.99, Pendle Dining Chair White - £59.99 - www.furniturechoice.co.uk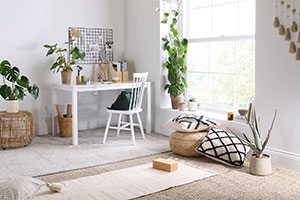 As a reminder to make wellbeing a priority for the year ahead, allocate a corner that's dedicated to relaxation. "A little nook will do; you'll only need enough space to practise your preferred stretches," says Rebecca. For meditation and stretching exercises, fit it out with a yoga mat or thick rug. "If you have a work desk at home, it's a good idea to carve out a zen zone within the same room for quick stretch breaks." 
Maintaining the same neutral palette, style the space in light hues and include plenty of plants. Another factor to consider is the accessibility of natural daylight, as it can help reset a confused circadian rhythm. A wellness-inspired space that promotes disconnection from the outside world will likely become a favourite spot in the home.
Rebecca adds: "This year, choose to focus on your wellbeing. As a society we sometimes forget to take good care of ourselves, resulting in high-stress levels and poor health. The mindful living movement focuses on elevating our quality of life, so ensure your home is somewhere you can go to unwind, relax and refocus."
For more mindful movement inspiration please visit: https://www.furniturechoice.co.uk/advice-and-inspiration/9-simple-ways-to-practise-mindful-living_a10000059