With a modest growth in property prices across the UK, relocation is no longer a key priority and I predict there will be a strong emphasis on home improvement which adds value, maximises space and increases comfort level. In fact, research shows that today's master bedroom is on average 13.3m2 in size, compared to the larger 14.7m2 in the 1970s. This shows that room sizes are shrinking making it fundamental that we all make the most out of the space available to us.
In 2020, bedroom furniture trends will demonstrate interior schemes which are practical and precisely customised to the individual, offering the same design appeal as a 5* boutique hotel with bespoke fitted furniture and carefully curated accessories.
As the interiors market enters a new age of principled consumer spending, a need to invest in quality products that are ethically produced and make our homes sustainable, has become standard fare. For this reason, the 2020 bedroom will be expected to echo this new desire for practical beauty and made-to-measure fitted furniture is your solution.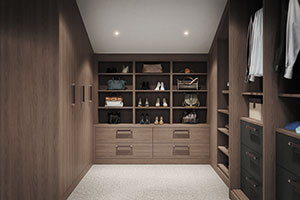 In answer to the growing demand for interiors which are kinder to the planet, all bedroom furniture by Daval is built from sustainable materials and produced using its exclusive market-leading option-i technology for custom furniture that adapts to structural features like sloping ceilings, chimney breasts, character windows and doors, irregular walls and even corner alcoves. This award-winning production technology is exclusive to Daval and allows you to receive exactly what you want without the bespoke price tag and having to choose from a range of mainstream designs. i-lite, is an exclusive lightweight panel solution and will allow for large bi-folding units to be securely fitted in a low, mid or high level setting for increased storage and concealment. 
As the master bedroom becomes a key room to personalise and organise, the interior capabilities of premium fitted furniture are becoming increasingly important with new and highly unique interior options coming to the fore next year." Whether you need to store a wealth of tailored garments, designer handbags or an enviable collection of shoes, Daval designs and makes a selection of hide-away and display furniture solutions that are created to suit your needs. Plus, its Eco Leather Drawer Inserts will organise everything from watches and jewellery to belts, hosiery and scarves. Made of 20% recycled leather, this eco interior storage solution is a great alternative to fully synthetic materials.  
If we look at the future colour and finish trends to hit the bedroom next year continue to relish more subtle tones, which express a more neutral décor. Light and medium coloured wood finishes will again lend themselves to the modern bedroom in 2020, all contrasted by a fusion of white, beige and dove grey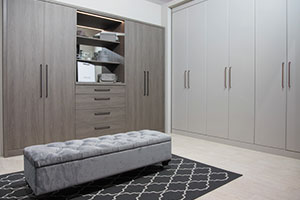 with hints of dark slate and navy blue. 
2020 is set to be the 'year of the bedroom', where intuitive space planning and tailor-made furniture design will be top priority. Daval's made-to-measure bedroom solutions are designed to maximise your storage space through expert design and hand-selected quality raw materials. To ensure leading product assurance, it also offers a 5 year manufacturer guarantee across its entire range of bedroom furniture.
For further information please contact: 
Daval Furniture │ t 01484 848500 │ www.daval-furniture.co.uk │ Daval House, Spa Fields Industrial Estate, New Street, Slaithwaite, Huddersfield, HD7 5BB 
Article by: Simon Bodsworth, MD, Daval Furniture