Almost a fifth of UK homeowners favour their bedroom above any other space in the house, so getting the layout, storage and décor on point is invaluable for a restful night's sleep and contented living.
But bedrooms come in all shapes and sizes and homeowners often need expert help when it comes to design ideas that make the most of the space – or lack of it – that they have. Most commonly the questions asked are 'how to make large spaces feel cosy and boudoir like', and 'how to make small rooms feel spacious and airy'.
Megan Baker, head of design at myfittedbedroom.com, comments: "The bedroom is such an important room in the house. Not only is it where you retire at the end of the day and get your well-earned sleep, but it's also one of the most personalised rooms in the house, where most personal effects are stored and where you get ready for the day ahead.
"A well-organised space is essential, not only for aesthetic reasons, but also for your mindset. Cluttered living causes undue stress and feelings of overwhelm and panic, as well as affecting time management, making you late or putting you on the backfoot for the day ahead, which is never a good start.
"Investing in designing a bedroom around its unique shape and size, as well as its inhabitants, will ensure you're making the very most out of every square inch of the space available and that it works for you."
As experts in fitted bedrooms, myfittedbedroom.com have developed top tips to turn any boring bedroom into a beautiful boudoir. Megan Baker advises:
SMALL BUT PERFECTLY FORMED BEDROOMS
If your dilemma is a lack of floor space in a room, whether it is a box room or a loft conversion, optimising every square inch of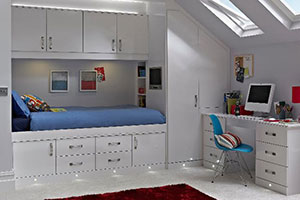 available space is a must.
The bed will usually take up the most floor space in a small room, so think vertically for storage and furniture.
Make a list of the types of furniture and storage that you need to incorporate into the space – whether it's a desk, single or double bed, drawers, hanging space etc.
Make the most out of the wall and overbed space to optimise the square footage – exploit the space all the way up to the ceiling, it will make the room feel higher as well as adding much-needed extra inches to storage spaces.
Integrate televisions, games consoles and tech equipment into the sides of wardrobes or hide them behind sliding wardrobe doors. Utilise open shelving where possible to not only give extra surface space, but to also feature accessories and decorative features to add personality and intrigue to a small space.
Lighting is also key – think about what function it will serve within the space and play with the varying heights in a room. Ceiling lights as well as wall lights and low level floor lights can create a glorious ambiance where space is limited. Mirrors, glossy surfaces and metallic finishes will also help bounce light around a room, making it feel larger.
Built-in underbed storage can also provide much-needed extra space for blankets, bedding, toys, shoes, towels – anything that is bulky and takes up a lot of room elsewhere.
Sliding wardrobe doors in a mirror finish will play a dual purpose in a small space – not only will you not have to factor in floor space for when the doors are opened, but they will also visually enhance the room, making it appear lighter and brighter, reflecting light and giving the illusion of space.
 
Creating a wall to wall wardrobe filled with clever storage solutions works extremely well in a small room, leaving the rest of the space for the bed and keeping it clutter free.
Installing a modern beauty bay inside a fitted wardrobe will create a bespoke space for toiletries, make up and perfume, which can free up much needed space in a smaller bedroom as well as hiding away messy bottles, lotions and potions.
Don't be afraid of using colour in a small space. Carefully selected darker shades not only have major impact but can also make a room feel as big as a white room. Colour and detail naturally draw the eye to the design of a room rather than the area of space and can add a real wow factor.
 
DREAM BIG BEDROOMS
A common creative conundrum when it comes to properties with larger square footage is how to make a big, open space feel more cosy and boutique like, and for this, zoning is key.
Creating purposeful vignettes within a bigger space will give the room a luxe feel, but will also help break it down into individual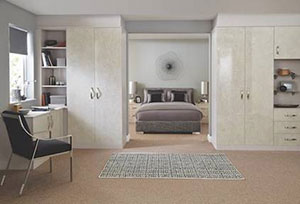 zones, creating a mix of focal points and helping to draw the space in without making it feel small.
In zoning a space, layout is key. Pay attention to where natural light is coming from and position all furniture around the bed. If the square footage allows for it, use additional floor space to accommodate an en-suite bathroom or a walk-in wardrobe, designed to suit the room's occupants and day to day routine.
Where a room can accommodate big, statement furniture, go for it, and feature it front and centre. Include a bed as big as the room allows, ideally positioned lengthways, and pick an oversized headboard in a lush fabric or print to make a dramatic statement and focal point for the sleeping area of the room.
To compliment this, feature floor to ceiling fitted wardrobes along one or two of the spare walls, but away from where the bed resides. Choosing a dark finish to the doors in either a solid colour or a smoked mirror will add drama to a vast space and will help create a more cosy feel. Clever use of wardrobe interiors will create bespoke storage configurations for multiple uses, going beyond hanging rails and drawers, incorporating bespoke shoe and bag storage, as well as jewellery, belts, hats and other accessories.
Men and women's storage needs differ, due to the type of clothing that dominates their wardrobes and the specific needs associated with the way different types of items need to be hung or folded away. Accommodate both with bespoke designs for different needs.
Creating a seating area using the same colour palette as that of the bed linen and wall coverings will add another dimension to the bedroom, and will provide a separate area for relaxing. Using similar accessories and foliage throughout the room will bring the space together, creating consistency and familiarity.
For design inspiration and interior tips on how to make the most of the space in a bedroom, visit www.myfittedbedroom.com to view the latest products, request a brochure or book a design visit.