As the Coronavirus pandemic has confined many of us to our homes, it's easy to feel trapped in the space we once used to calm down in. With COVID-19 anxiety showing no sign of disappearing, setting up a mindful practice can be useful for managing our angst in this strange and unpredictable time. With the right furnishings, lighting and scents, you can create a tranquil space in your home again which you can come back to re-centre your mind. We spoke to the experts at Shakti Himalaya who provide their easy tips on how you can create a meditation space at home.
 
So why meditate?
Meditation offers incredible benefits such as increased emotional health, reduced stress, enhanced self-awareness and controlled anxiety but it can be hard to get into. No matter where you are or how busy you are, your breathing will always be an available meditation technique for you. If you feel panicked or overwhelmed but don't have the time for in-depth meditation, try the 7-11 breathing exercise where your breath in for 7 seconds and out for 11. This is a quick technique to help you relax and gain composure in a variety of situations.
1)    Find a space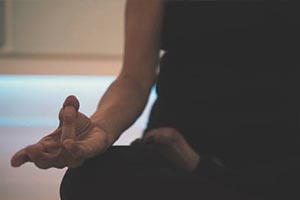 Before you can begin transforming your meditation area, you will need to find a space that is right for you. Whether this be your bedroom, a corner of your living room or a conservatory, make sure this space is away from any distractions that may disrupt your practice. A cluttered space can also clutter your mind, so ensure your chosen spot is clean before you begin decorating.
2)    Choose soothing colours
One of the best ways to achieve a cosy, calm ambience in your meditation space is by choosing cool hues. Not only are shades such as lavender, soft grey, pale blue and deep greens known to promote relaxation, but it will also make your space seem more expansive so you don't feel overwhelmed in the room. Jennifer Jarvis, senior designer at Helen Green Design, supports this and advises to 'swap out dark and heavy colours or materials for light and fresh ones to give your key spaces a refresh when spending so much time at home. The change of season inside your home will help you bring the outdoors in which will benefit your mental health and well-being.'
 
3)    Add soft furnishings for maximum comfort
 
Is there anything worse than when you are trying to get in the zone to meditate, but you can't get comfortable? Layering the room with textured or patterned throws, cushions and artwork will bring your space to life, whilst creating a luxurious yet comfortable design. If it's not possible to have these permanently laid out, store them in a bamboo basket or invest in a velvet storage bench in a colour that compliments your room.
 
 
4)    Create mood lighting for relaxation
 
Research shows that poor lighting can contribute to poor concentration, low appetite and mood fluctuations- so getting the lighting right is key. If you are indoors, we recommend dimming your lights before you meditate. If you do not have dimmable lighting, turn your main lights off and use warm, fairy lights to create flattering mood lighting. If you have chosen the garden as your meditation area James Ashfield, studio manager at Rigby&Rigby, recommends to 'install some solar powered decorative lights to add a gentle ambience. These are complemented with some hidden uplights to accentuate the planting as the natural daylight levels fade.'
 
 
5)    Appeal to the senses
 
A meditative space that looks, feels and smells good will be inviting and encourage feelings of comfort and pleasure.  The ritual of lighting a scented candle before you meditate will not only cleanse the space, but it will help centre your mind and turn your attention inward. Adding a plant will also improve the air quality, as well as connect you to the natural world before meditation. If you struggle to feel grounded during your practice, try stimulating the touch sense by using mala beads to assist your meditation.
 
This piece was brought to you by the experts at https://www.shaktihimalaya.com/
For more information please contact monisha@datadial.net