Figures from UK Finance show that the number of homeowners who remortgage their properties for additional budget towards DIY projects increased by 5.9 per cent at the end of last year. As more people raise money for home improvement and extensions projects rather than paying the price of moving, Michael Holmes, property expert for the National Homebuilding & Renovating Show (26-29 March, NEC), provides his tips below on how to transform your home for under £5,000.
Cosmetic makeover
A property that is rundown, full of junk and clutter, with outdated decoration and a worn-out kitchen and bathroom can be transformed for under £5,000. A clever cosmetic makeover scheme can add 5-10 per cent to the value of a property, and more in some instances.
Start by stripping out all of the old carpets, curtains and as much junk and rubbish as possible. Remove any outdated or damaged fitted furniture. Repair the walls so they are ready for painting, stripping old wallpaper and sanding and filling to get a smooth finish. If the walls are in very poor condition, they can be reskimmed with a finishing coat of plaster for around £2,000-£2,500 for a typical three-bedroom house, creating walls that are as a good as new. You can then repaint the walls in a nice light neutral shade, such as an off-white, and the same on the ceilings. This will reflect light and make the property feel more spacious. Repaint the woodwork such as skirting, architrave and doors, in a complementary neutral colour.
Either sand, and then stain or paint the original floorboards if they are in good condition, or lay wooden laminate flooring (from just £7.5/m2).[1] Update the light fittings and shades for inexpensive new ones. If the bathroom suite is out of date, replace it with a simple new white suite (from only £300-400). If you have the budget, consider updating the kitchen too.
None of this work should be prioritised over basic repairs, like solving damp, or undertaking structural repairs.
Update the kitchen
Giving your old kitchen units a new look can be easily achieved without the disruption of tearing it all out and for a fraction of the cost of a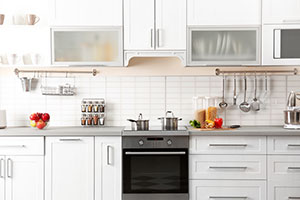 totally new kitchen.
If you like the layout and storage space, and the carcasses are in good condition, keep them and simply replace the doors, handles, worktops, sink, taps and splashbacks for a fresh look. Of a standard £3,500 kitchen (including handles but excluding appliances and worktops), around £2,200 of the price goes on carcasses. Replacement doors starting from around £20-50 per door will save on the units and labour costs, but also on a lot of disruption. Companies like IKEA also stock standard carcasses, to which different styles of door can be fitted and interchanged, either when your mood changes or once you have the cash for pricier doors.
If you want to change your kitchens layout, you can reuse the existing carcasses for one run, and add new ones elsewhere, and then fit matching doors and worktops, or choose two complementary styles.
Adding an en-suite shower room 
Having an en-suite to the master bedroom is a must have for many, improving privacy and solving the morning queue for the bathroom in a larger household. Providing the layout is carefully thought through an en-suite shower room need not be very large - a space as small as 0.9m x 2.7m is adequate for a WC, basin and 900mm square shower tray, and anything larger than this is a bonus. A wet room design - where the floor forms the shower tray, with an in-floor drain, can fit in even less space - just 0.9m x 2.4m.
Space can be found by subdividing one end of a large bedroom using a timber or metal framed stud wall. Alternatively, a section of an adjacent bedroom can be divided off using a stud wall, and a new doorway formed in the partition wall.
An old airing cupboard or storage area may be large enough to form a small shower room. Part of the first-floor landing area in a larger property could be divided off, or an existing smaller bedroom converted into a larger shower room and walk-in dressing room.
A simple shower room can be built for £3,500-4,500 including stud/metal framing, basin and taps, enclosed cistern WC, shower mixer and arm, tray, door and basic white tiles.
Tidy up/makeover the garden
An attractive, tidy and well-designed garden can make a property far more saleable and will add in turn add to its value. Make sure you carry out at least the basics: clean up and tidy litter and dead plants; weed; repair and feed the lawn; cut back overgrown trees and shrubs; create interesting shapes with beds and borders; add colour and interest with planting. Garden work can all be done on DIY basis.
Makeover the exterior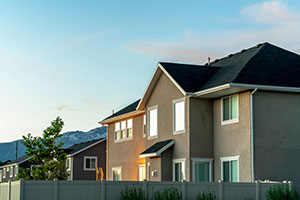 If your home's exterior is looking tired or is characterless you can do a great deal to improve its kerb appeal and add value in the process. Clean down and repaint the windows, doors and garage door, plus any external joinery such as bargeboards, fascia and soffits.
Removing tired, inappropriate features that are out of place such as stone cladding or an oversized portico can restore a property's value by widening its appeal, as can reinstating period features. Adding a well-chosen porch or porch canopy in a style appropriate to the existing house can do a lot to provide a focal point and add character.
If the roof is covered in unsightly moss you can clean this off with a pressure washer - but be sure not to do any damage to the tiles of slates. Repair any cracks or damage to render, brick or stonework, including repainting if necessary. 
If the walls are patchy or the house has been altered, repaired or extended using different mismatching materials, consider painting with masonry paint. An alternative would be to plant a climbing plant - this can also work wonders in hiding an ugly elevation.​