Helping first-time buyers furnish their home with finesse, Catalyst are hosting an interior design event on 8th February, at new development ARRO in Southall, with all buyers who reserve on the day receiving up to £3,500 towards kitting out their interiors.
 
Partnering with Edward Thomas Interiors, first-time buyers can discuss their home with the professional stylists, whilst getting clued up on 2020's biggest interior trends, fabrics, and styling tips.
 
Markus Kendall-Young, Head of Sales and Marketing at Catalyst, comments: "Furnishing your first home can cost thousands, becoming a significant barrier to those looking to get on to the property ladder. As well as helping buyers with the financial side of fitting out their home, our interior design event is designed to inspire new homeowners, so that they can visualise living in one of our brand new, high quality developments."
 
Sunita Sahota from Edward Thomas Interiors, comments: "Walking into an empty flat, void of furniture and atmosphere, can be pretty daunting as a first-time buyer. Teaming up with Catalyst for a series of interior design events, we will be showing buyers how to layout furniture in their home to give it that wow factor, as well as providing tips on curtains, fabrics and lighting, all designed to help each property feel homely from day one."
 
"Those who reserve on the day will be able to put the money towards our bespoke service, where our designers work directly with you on an element of your home. One of the most popular options is to have curtains fitted – a design necessity which can be expensive, taking many first-time buyers by surprise. Our service starts with selecting one of our high quality fabrics, before our fitter comes to measure and install your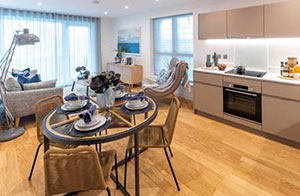 curtains, meaning first-time buyers can enjoy a slice of luxury in their first home."
 
Part of one of London's biggest regeneration programmes delivering 3,750 homes in central Southall, ARRO is a fashionable collection of studio, one and two-bedroom Shared Ownership apartments. With deposits starting from just £3,282, the stylish homes are significantly broadening access to the property ladder in London.
 
The interior event will be hosted at ARRO, Samara Drive, off Beaconsfield Road, Southall, London, UB1 1BZ, Saturday 8th February, 11am – 4pm.
 
Prices at ARRO start from £65,625 for a 25% share of a studio apartment (FMV: £262,500), £80,000 for a 25% share of a one-bedroom apartment (FMV: £320,000), and £98,750 for a 25% share of a two-bedroom apartment (FMV: £395,000).
 
 
About Catalyst
 
Catalyst have been at the forefront of housing for more than 80 years and provide more than 30,000 homes in London and the South East, through a wide range of rental and home-ownership opportunities.
 
We are one of the leading housing associations in London and the South East and aim to be a catalyst for change and improvement wherever we work, pursuing better homes, better service and a better future for our customers.