Property Booking, a website which promotes homeownership in England and Wales alongside rental options including London Living Rent, has experienced a huge surge of enquiries this January from buyers considering Shared Ownership. The website, which hosts details of homes available to purchase using Help to Buy and to part-purchase via Shared Ownership, as well as options for rent, saw searches for the more affordable home-buying option of Shared Ownership soar by 62.4% during the first four weeks of 2020.
Shared Ownership is a Government-backed product that allows would-be homeowners to cut the cost of getting on to the housing ladder by purchasing a share of the home from a housing association or other registered provider, and paying rent on the part they don't own. Over time, they can buy further shares in the property if they wish, through a process known as staircasing, until they own the complete home.
Property Booking suggests the recent surge in enquiries in Shared Ownership is owed to recent promotion of the product. The Conservative Party recently pledged to reform the structure of Shared Ownership, making it easier for buyers to staircase in smaller amounts. Additionally, the National Housing Federation launched a campaign to substantially raise the profile of shared ownership just weeks ago.
Jimmy Acton, Director at Property Booking says: "Shared Ownership has been around for years but it is only recently that we have seen the product gain momentum really come into its own.  With more government backing and an evolving understanding of the product, it is clear that demand is on the rise. The affordable nature of shared ownership, combined with an increased desire to get on the property ladder, means that we can expect see this interest continue."
While nationally only around one in 100 homes is offered for sale via Shared Ownership, its popularity is increasing rapidly, especially in areas where property prices have massively outstripped income. In Cambridge, for example, 5.4% of homes are now listed for sale with Shared Ownership, and the product is increasingly popular in London, Plymouth, Birmingham and other hotspots.
 "Owning your own home is still seen as an essential life goal for most Britons, so it's not surprising to see such an affordable way of putting down roots becoming more popular," continues Jimmy, "Shared Ownership not only offers much more security than just renting, it also allows you to share the benefits of an asset that is increasing in value.
Young people who are part of Generation Rent are often paying huge sums to landlords every month, and yet they struggle to get a mortgage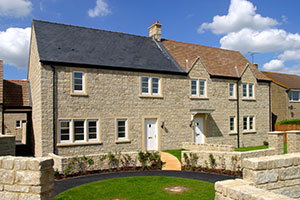 because they aren't able to save up a sufficient deposit. Shared Ownership is proving to be the key to unlocking this problem, allowing people to own their own home at their own pace, while having the security of a controlled rent that usually works out much cheaper than they were paying on the open market."
Shared Ownership is open to households with an income of up to £80,000, (£90,000 in London), reflecting the fact that even buyers in good employment struggle to fund their own home on the open market. Figures from Property Booking reveal that the average buyer looking at Shared Ownership has managed to save up a deposit of £21,000 with a household income of £49,000, despite being on average 25-35 years old.
 "These figures show just how committed people are to the idea of becoming property owners, and how willing they are to sacrifice and save," says Jimmy Acton. "Shared Ownership offers them the chance of having the key to their own front door considerably sooner, with the flexibility to increase the amount they own as their careers become more established."
The popularity of Shared Ownership will continue to increase, believes Acton, as long as house prices continue to rise – and as prices in January 2020 were an average of 1.9% higher than in January 20193 and wages are still lower in real terms than they were a decade ago4, buying a home is unlikely to get easier any time soon.
"We are also expecting to see greater numbers of home-movers looking at shared ownership," says Acton. "At the moment, most Shared Ownership buyers are venturing into property for the first time, but it is also open to those who need to move to a larger or more suitable home but are unable to do so. With the current open-to-all Help to Buy scheme ending in April 2021 and the new scheme being open only to first time buyers, we are expecting an increase in second-steppers looking at Shared Ownership as the cost of upsizing on the open market becomes out of reach."
To view the extensive range of Shared Ownership properties on sale from leading housing associations visit www.propertybooking.co.uk