The largely unprecedented and uncertain nature of recent events has led to a significant shift in lifestyle for many, with the vast majority of office workers now working from home.
With this in mind, flexible office specialist, Workthere, has put together some top tips on how to get the best out of your day when working from home, by replicating aspects of your usual office's vibe where possible:

Maintain a routine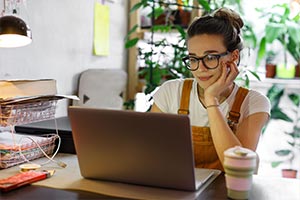 It's important to establish a routine from the get-go when working from home and sticking to your usual sleeping pattern can help with this. It can be tempting to overwork, so setting boundaries between work and personal life are important when both are in the same place. Having a proper lunch break and taking time away from your desk is helpful and, if possible, working in a separate room to where you usually relax can also aid your efforts to maintain this separation.
Create a desk set-up
Try to create a working environment that is either similar or close to your usual office to maximise productivity. Some starting points include:
-       Good lighting (natural lighting is best if possible).
-       A comfy chair that supports your back.
-       Accessories – Introducing plants can not only add colour but improve air quality in your workspace.
-       Stationery - Collate your stationery all in one place so you don't waste time looking for specific objects.
Stay connected
Working from home separates everyone from the familiarity of the office environment and their co-workers within it, so finding the best way to stay in touch with colleagues is crucial. This is not only to ensure business continuity but also to maintain motivation levels.
There are various applications connecting teams together online such as Google Hangouts and Microsoft Teams, both of which are downloadable on mobile and desktop. These tools offer an easy way to message individuals or groups and hold voice or video calls - with the added ability of screen sharing, for when demonstrations are required as part of the regular catch ups and meetings you would usually have.
Avoid procrastination
A recent study by Workthere found that between 10am and 11am is the most productive time of day for UK office workers. So, whilst working from home, use this time to get those tasks you've been putting off done. In the same study, Tuesday was revealed as the most productive working day of the week followed by Monday, therefore it is wise to use these days to get through your to-do lists.
Use music as a motivational tool
Listening to music may not be for everyone when working, but for those who are accustomed to the atmosphere of a busy office, this can be a good alternative for some background noise.
Workthere research found that two-thirds (66%) of UK office workers think listening to music whilst working is essential as it can raise spirits and boost morale. The research also identified the genres of music that workers most felt increased productivity, with pop coming out at the top (35%) followed by classical (25%) and rock (20%). In light of the research, Workthere has created a mood boosting playlist to help maintain motivation throughout the working day.
Don't forget to disconnect
In a world where we can be constantly connected wherever we might be, it is important to take a step back and disconnect your devices during the evenings. Often, when working from home, we over-do the screen time as there are no face to face meetings, so make sure you put your devices down at the appropriate point and do something else you enjoy that is completely separate to your working life.
Cal Lee, head of Workthere, comments: "With most parts of the UK in full lockdown, many of us are finding ourselves in a new type of co-working space and while we get used to these new surroundings, along with new routines and pretend commutes, many of us are taking lessons from our usual workplaces in order to create some sort of normality.

"Maintaining creativity and productivity is both challenging and vital when working at home and we hope that our tips provide some useful insight into how to make the most out of your new working environment and keep the routine and some of the normality of your usual working day."
For information on the best practices to adopt whilst working from home, visit Workthere's blog: https://www.workthere.com/en-gb/news-guides/people/workthere-s-guide-to-remote-working/