Kent homebuyers are snapping up 14 new homes built by mhs in Cliffe. The homes group aims to build a total of 600 new homes by 2021, of which at least 85% will be affordable. Some of the homes are being sold via the shared ownership route.
An mhs statement said: "We've invested more than two-million-pounds to provide substantial and mixed community housing in a rural location, comprising of four three-bedroom homes, eight two-bedroom homes and two one-bedroom homes. They're a mixture of rented and shared ownership homes."

The two affordable rent apartments are for people aged over 55. These homes are an important part of mhs's strategy to make sure that older people in Medway have access to safe, affordable housing that allows them to downsize whilst staying in their local area. Customers moved into the homes at the end of 2019. 

mhs added: "We've built seven shared ownership homes on this site, which provides an opportunity to purchase a share of the full value of a property with a rental payable on the remainder. This means you can have smaller mortgages and smaller deposits to purchase. You also have the security that comes from being a homeowner.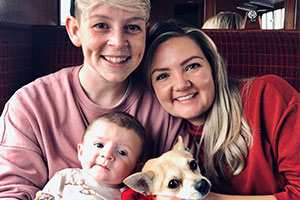 We're delighted to have housed seven families from Medway in our shared ownership homes, three of whom were already living in Cliffe. Five of the families also work in Medway and the other two work in Dartford."

'I'm staying in my home village thanks to shared ownership'
Kirstie Cook moved into her two-bedroom home in November, alongside her ten-year-old son Marley. The pair had previously been living with family but are overjoyed at the prospect of owning their own home: "I chose Rookery as it's one of the few shared ownership schemes in the village. It was an amazing feeling stepping through the door to our home."
Kirstie grew up in Cliffe and has been able to stay within the village, thanks to shared ownership: "Getting onto the property ladder these days can sometimes feel impossible especially if you're a one-person applicant. I was purchasing on my own, so shared ownership gave me the opportunity to provide myself and my son with our own home."
The privately rented homes on this site are already occupied, with residents already enjoying their new homes too. Again, all these customers were local to the area and work in the area too. 

Rachel Rae moved into her three-bedroom home on Friday 1 Nov, along with her wife, Abi and five-month-old son, Ezra. "We've settled in really well so far, we're getting all of our boxes unpacked. The specifications are great and it's been finished off really well, we like the grey tiles, the en suite to our bedroom, it's got a lovely garden and the rooms are really spacious", said Rachel. 
The couple were living in one of our other privately rented homes; a two-bedroom home in Rochester, but they were attracted to this because of the rural setting and location. 
"One side of the site is residential, and the other side is all fields, which is great for dog walking, there are fields as far as I can see. It's lovely and quiet here and it's right down the from my parents which is really helpful as we've just become parents", said Rachel.

Sarah Paxton, Assistant Director of Development and Regeneration said: "We're delighted that these high-quality, affordable homes are now ready. Our ultimate ambition is to help end the housing crisis in north Kent and this scheme is a great example of how we're meeting a local need for rural homes in Medway. Thank you to all of our partners involved in this exciting project including Medway Council, Frankham Consultancy Group, Skillcrown Homes Ltd and Martin Arnold Associates."

Find out more about the homes mhs is building at mhs.org.uk