Neon, Burnt Oak
Neon, Burnt Oak
Neon, Burnt Oak
Development Price Offer New
Burnt Oak, from £134,000 for 40%
 
House Description
With over a billion people using the tube every year, living close to a station is set to remain a top preference for prospective buyers when choosing a new home. A ten-minute walk from Burnt Oak London Underground Station, NEON by Catalyst presents first time buyers the rare opportunity to step onto the property ladder with Shared Ownership, in an undiscovered pocket of affordability in North West London. 
 
Burnt Oak's only Shared Ownership development, NEON is an exceptional offering of 46 one, two, and three-bedroom apartments available through the alternative home ownership scheme, with full market values 20% lower than the average in neighbouring Colindale. 
 
Well-designed, contemporary layouts feature the best in open-plan living. High specification kitchens, complete with top of the range appliances, flow into bright living and dining spaces. Large windows flood the room with natural light, while a floor to ceiling glass door leads to an ample covered balcony. Spacious bedrooms feature modern pendant light fixtures and master bedrooms benefit from fitted wardrobes. An essential for many buyers, the master bedrooms in selected two-bedroom and all three-bedroom apartments feature an en-suite in addition to a family bathroom, while selected three-bedroom apartments also feature an additional WC. Homes are generous with storage solutions – each apartment includes a dedicated utility room, as well as further built-in storage units in two and three-bedroom homes.
 
Designed with community in mind, the southwest facing podium garden offers residents a sunny, communal space to gather, featuring green landscaping, patio, and children's play area. The garden has elevated views of the local area and all the way to the world renowned Wembley Stadium. 
 
Perfect for city commuters, the Northern Line connects nearby Burnt Oak underground station to central London in less than 30 minutes – travel to Euston takes just 22 minutes, while King's Cross St Pancras for local, regional, and international travel is just 25 minutes away. Bank and London Bridge are 34 and 36 minute journeys respectively.
 
Vibrant and diverse, Burnt Oak benefits from a strong community feel. Ideal for families, the development falls withing the catchment areas of several popular schools – including nearby Catholic, Jewish, and Hindu schools. Several independent restaurants dot the area offering global cuisine from Romania, Nigeria, Korea, and Brazil.  
 
In addition to a variety of international markets, ASDA, Morrisons, and Marks and Spencer's Food Hall are all just a five-minute walk away. For more comprehensive retail therapy, Brent Cross Shopping Centre is just a 21-minute journey via the 142 bus service to Brent Cross. 
 
Prices for one-bedroom apartments start from £134,000 for a 40% share (full market value £335,000) and prices for two-bedroom apartments start from £168,000 for a 40% share (full market value £420,000). Three-bedroom apartments start from £215,000 for a 40% share (full market value £537,500).
 
Prices for one-bedroom apartments start from £134,000 for a 40% share
Property Gallery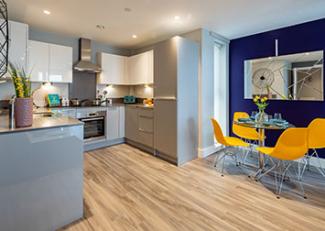 Development Address
HA8 5LD
Rent on Remaining Share **P/M
£460
Please note
These figures are a guideline only, additional costs may be incurred.