Over the last 40 years, Bristan has become the biggest taps and showers company in Great Britain. In fact, we estimate that 1 in 5 British homes now have a Bristan tap or shower fitted. You'll also find our products in bathrooms and washrooms at hospitals, leisure centres, hotels, schools and colleges across the country.
Bristan

Gallery Smart Kitchen Measure Tap: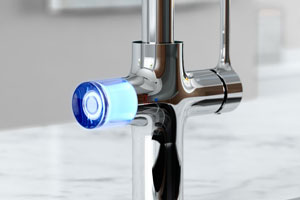 The Bristan Gallery Smart Measure is a must have for any budding baker, the unique Gallery Smart Measure features innovative technology that delivers the exact amount of water you require before automatically turning off. The simple and effortless Gallery Smart Measure is preset to cover all the water volumes you will need, with 17 different measurements of millilitres, pints and cups.
Perfect for numerous cooking and baking situations as well as being incredibly handy for preparing and mixing drinks. The stylish single lever handle provides precise control for hot and cold water usage, or by utilising the rotating collar on the end of the spout, with a touch of a button you can deliver the precise amount of water you need.
A must have for any budding baker, this innovative kitchen tap delivers exact amounts of water required before automatically turning off, meaning that baking just got less fiddly, more accurate and promotes less water wastage. Key product details include; 
17 different measurements of milliliters, pints and cups
Easy and precise control of hot and cold water needs, with a simple rotating collar on the spout
Available in a chrome finish
Affordable price point of RRP £499, and 5-year manufacturers guarantee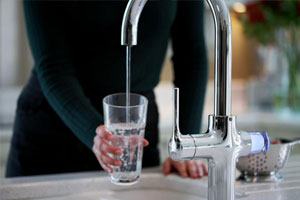 Bristan

Rapid 4-in-1 Boiling Water Tap:

Offering hot, cold, filtered and boiling water 'on tap' the Bristan Rapid 4 in 1 Boiling Water Tap is perfect for the multi tasker. Whereas the traditional kettle can take up valuable counter space and trailing wires can be hazardous, the Rapid 4 in 1 features a high quality, sleek designed tap that fits seamlessly into any kitchen and a compact water tank that fits neatly under most kitchen sinks.

With peace of mind built in, this kitchen must-have includes clever features such as touch sensor controls for filtered water and a safety touch and hold sensor for boiling water to ensure you can't accidentally dispense the boiling water.

Perfect for the multitasker. The Rapid 4-in-1 delivers hot, cold, boiling and filtered water at the touch of a button. 
High quality, sleek designed tap fits seamlessly into any kitchen
Touch sensor controls for both filtered and boiling water
Built in safety touch/hold sensor for the boiling water dispense,

ensuring

peace of mind that boiling water won't accidentally dispense       
The Rapid 4-in-1 maximizes space in your kitchen – with a 3L capacity tank, it's compact enough to fit underneath most kitchen worktops. There're no trailing wires unlike kettles on countertops
Minimizes waste. The

Bristan

Rapid 4 in 1 Boiling Water Tap only dispenses the amount of water you need, rather than boiling a whole kettle to only use a small amount of water
Available at an RRP of £899, and 5-year manufacturers guarantee