Here at HomeFocus we are constantly looking at the top trends to bring you information about whats hot in the current market. We where lucky enough to review a few varied products that could help you in the home. Take a look at our top trends and what we thought of them.
Multi-3 Action sweep
I used this along side the Vileda 1,2 Spray Mop to initially get rid of the dirt and dust in my kitchen, one of the top qualities about it was that I could get all corners within the room which was very handy, there was no need to get the hand held vacuum out. I also used it to get all the hard to reach places like the skirting boards which I usually have wipe with a cloth, I was confident that it wouldn't cause any damage due to the rubber bumpers on it. Although the brush is intended for smooth floors I did try it on a variety of different surfaces to test its durability. My suspicions were correct and it didn't perform well on anything other that a smooth surface.
At £5.99 RRP it is an absolute bargain for a good quality brush that has good cleaning action. 
Vileda

1,2 Spray Mop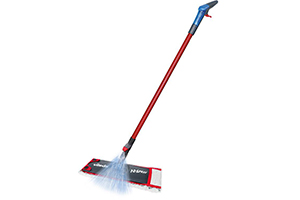 This has completely changed the way I now clean my kitchen floor, no more mop and bucket for my household. It's quick, easy and convenient, I cleaned my floor to a good standard in minutes. All I needed to do was fill the built in tank with cleaning fluid and I was away! Upon my first impressions I did think it was bit pricey (RRP £25) but it is well worth the money and there isn't any hassle of getting the mop bucket out, waiting to fill it with the tap and to get socked when taking it out the sink. I tried the 1,2 Spray Mop of both my kitchen lino and bathroom laminate and got good, quick results on both.
The removable microfibre pad is a good key feature as there aren't many mops on the market which you can wash and reuse time again. I have been hand washing the pad though as I don't feel it's worth it to put the washing machine on for the pad alone. It will be interesting to see how long it lasts before I need to buy a new one.
It is quite literally 1, 2 done! 
Gardman

Please Wipe Your Paws Doormat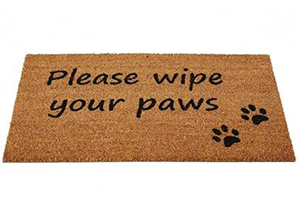 The Gardman 'Please Wipe Your Paws' doormat is a fantastic addition to any home with a pet. The front of the mat has a cheeky but welcoming design that includes two printed dog paw-prints, reminding visitors to wipe their feet before they enter your home. 
As the doormat is created from tough coir pile with PVC backing. It can be used for indoor and outdoor use depending on where you want to feature the doormat and is completely weather resistant. The mat is also non-slip and machine washable.
The 'Please Wipe Your Paws' doormat is currently being sold at the retail price of £9.99. 
Churchill Texture
Grey

Marble Coupe Plate

Impress your guests and up your hosting game with the stylish tableware from Alliance Online.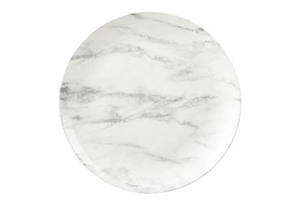 The Churchill textures plates come in a variety of exciting designs, here at HomeFocus we was lucky enough to be sent a set of 6 Churchill texture grey marble coupe plates. These plates were a real head turner at the dinner table when I invited guests for tea, I was definitely the hostess with the mostess. The stylish modern marble design gave sophistication to my dinner table and definitely mean business being a very sturdy plate and a substantial weight which makes a busy dinner time a little less stressful knowing plates aren't going to damaged or broken. Each plate has its own unique marble pattern meaning you can dress them up on your table for a dinner party and just as easy dress them down for a more lad back meal. Both microwave and dishwasher safe and come with a Churchill 5 year edge chip warranty. I think the plates are superior quality and well worth the price at £55.51 for 6, these also come with 6 side plates for £27.72 which can be bought separately. 
Available to purchase here: https://www.allianceonline.co.uk/texture-grey-marble-coupe-plate-ktcp0101.html
Kitchen Craft Stackable Wine Rack 5.5" x 23" x 6" Copper
Every wine lover needs a wine rack… we have the perfect one for you!  This will hold up to 7 wine bottles at any one time. It is very stylish and minimalistic on my kitchen counter top. The size of the rack makes it convenient for storage as it can easily fir in my cupboard, also being fully stackable to hold double the amount of bottles! Copper
appliances/products are very in at the moment so suits my kitchen well. It is visually stunning and contemporary and will suit all homes regardless of decor or style because after all your precious wine would be displayed in a stylish manner.  
Available to purshase here: https://www.allianceonline.co.uk/copper-stackbale-wine-rack-bclwr001.html 
To view more articles like our Top Trends Review please visit Home Style in our features section.